Snapshots by Gloria Freeland - April 8, 2004
A night in Paris
Many of our high school students were transported to Paris at Saturday's junior-senior prom.
Posters led prom-goers and community members along the way from St. Louis to New York, then across the ocean to London and eventually to Paris.
"We're in London, headed to France. Follow the path to a Paris dance."
Café tables, park benches and paths lined with flowering plants and lit by twinkling lights transformed the cafeteria and gym into Paris - the city of lights. Fountains - even a chocolate one to dip strawberries in - added to the magical scene.
With the Eiffel Tower as a backdrop, couple after couple lined up in their finery to capture the moment.
It was perfect timing to celebrate with the Eiffel Tower, for the structure turned 115 years old just last Wednesday. The tower was opened by the Prince of Wales, who later became King Edward VII of England that same year.
Web sites are full of trivia regarding the famous tower. It was the tallest structure in the world at 984 feet and remained so until 1930, when the Sears Tower was built in Chicago.
Its builder was Alexandre Gustave Eiffel, who had a long career as a structural designer. Before the tower, he had worked on another project which became every bit as famous. The French called it "la statue de liberté," but after it was presented to America as a gift, it became better known as the Statue of Liberty.
The tower was built to commemorate the 100th anniversary of the French Revolution at the Centennial Exposition of 1889. But many people thought it was ugly. The writer Guy du Maupassant and many others in Paris art circles thought it so ugly they wanted it torn down. It was reported that du Maupassant regularly ate in the tower's restaurants because he said it was the only place he could sit in Paris and not see it.
It was almost taken down in 1906, but Parisians decided to leave it up, feeling it might be useful as a radio tower.
The tower is an architectural and engineering wonder. Eiffel's design required two and a half million rivets. Famous for his bridges, he designed the structure to keep all major members in compression, a principle whereby natural weight helps hold everything together.
Today the Eiffel Tower is THE symbol most associated with Paris. Posters, postcards, movie sets and family photos use it as a backdrop to represent the enchantment of the romantic city.
On our trip there last June, Art, the girls and I spent hours under the structure watching children chase pigeons, listening to people speak French, eating hot dogs and watching gendarmes - policemen - arrest unlicensed vendors who were selling a wide variety of trinkets, including mini-Eiffel Tower key chains.
On another day, we traveled up an elevator in the tower's northwest leg to get a panoramic view of the city. From the top, we could see Notre Dame and Sacre Coeur cathedrals, the winding Seine River, the Louvre and many other sights.
Throughout our six days in Paris, Art regularly broke into song. "The last time I saw Paris, her heart was young and gay. No matter how they change her, I'll remember her that way."
The last time I saw Paris was Saturday night. I have a hunch those kids will remember her, too.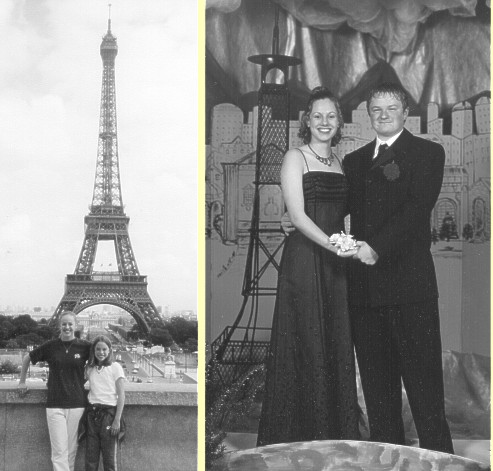 Left, Mariya and Katie at Eiffel Tower in Paris, June 2003.
Right, Mariya and Judd Winter at RCHS junior-senior prom, April 2004.