Snapshots by Gloria Freeland - March 25, 2004
Dat be all right
I feel lucky I knew all four of my grandparents. Mom had only her maternal grandmother, but not very long for her Swedish "Mormor" Maria died when Mom was just 3. Dad knew only his paternal grandfather William.
Although my grandparents have been gone many years now, they're never far from my thoughts. Three of them died in March so I guess it's natural that I would think about them more this month.
But small things bring them to mind all year long. Sunday evening as we were having supper with Mom and her sister Edith, Mom told something which made me think of her dad - my Grandpa Nels Mostrom - right away.
Having come from Sweden when he was nearly 25, Grandpa never completely mastered English and he spoke with a lilting Swedish accent. Just as often as not, he would express gratitude with "Tack så mycket" instead of "thanks a lot."
Grandpa was a religious man who read in his Bible every night. He'd often tell us that the streets of heaven were paved with gold. If we asked, he'd sing his favorite hymns - "What a Friend We Have in Jesus" and "The Old Rugged Cross."
He did some things we kids found quite amusing, such as gargling with Listerine every day - several times a day if he had a sore throat. He even rubbed it on his head at night. He figured if it could cure a sore throat, it would certainly get rid of dandruff!
He and my Grandpa Robert Freeland lived together a few months on our farm near Burns after their wives died, but it didn't work out well. Grandpa Freeland was a perfectionist and Grandpa Mostrom's philosophy, whenever things weren't going perfectly, was "Dat be all right."
For about 10 years after Grandma was gone, Grandpa Nels shared his time between our home and Aunt Edith's. Then he moved to a nursing home where he lived his last 10 years. We visited frequently and he always talked about "all the old people in here" - even though he was about the oldest resident.
He made potholders for every nurse and nurse's aide in the home and for all of us. I have a dozen of them stacked on my microwave and Art says they're the only ones I have that are any good.
In December 1980, my first husband Jerome and I were getting ready to celebrate Christmas at my parents' farm. I wanted to take Grandpa with us so I called the nursing home to let them know we'd be there in a couple of hours. The nurse protested, saying that it was extremely cold and that it wouldn't be good for Grandpa.
I thought, "Geez, he's 95. If Christmas isn't a good time to take a small chance and have some fun, when will there be a good time?"
When I told Jerome what the nurse said, his response was, "To hell with that. He's going to be with family for Christmas."
When we arrived at the home, Grandpa was sitting alone at one of the tables in the dining room twiddling his thumbs, waiting for his meal. His face lit up when he saw us.
"Come on, Grandpa," I said. "We're taking you with us."
We bundled him up in a comforter and took him to our warmed-up car for the half-hour drive to Burns. He was beaming most of the night. He even brought out his harmonica and played a couple of tunes for us. After he went to bed, I peeked in at him. He was wearing the stocking cap he wore every night.
That was Grandpa's last Christmas, and every year at Christmas time, I think how glad I am that he spent it with us.
And as I said, Grandpa came to mind again Sunday. Mom and Aunt Edith were sitting around the supper table talking about their afternoon at the movies. They had gone with a friend and the friend's grandson had driven them there. When he took them home, Mom gave Matt a one dollar bill just as Grandpa had always done with us when we had visited him. And just as Grandpa said, Mom told the young man, "Buy yourself some ice cream."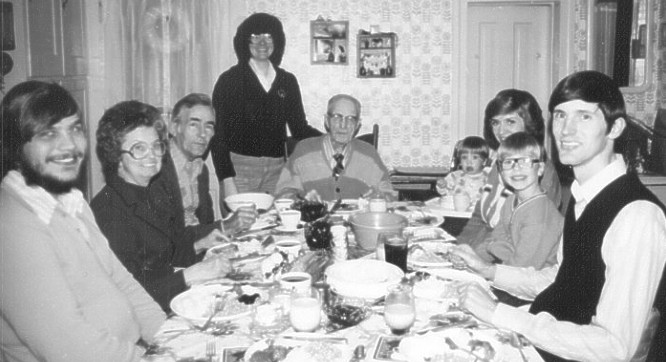 Christmas 1980 at the farm: Jerome, Mom, Dad, Gaila, Grandpa Nels, Michael, Linda, Paul and Dave.