Snapshots by Gloria Freeland - Dec. 18, 2003
Furry, fuzzy, frisky felines
When I took Mom and the girls to "Cats" at McCain Auditorium a couple of weeks ago, I wasn't exactly sure what to expect. I have friends who have seen it on Broadway and I had seen parts of it on PBS. I have enjoyed a number of composer Andrew Lloyd Webber's works - including "Jesus Christ Superstar," "Joseph and the Amazing Technicolor Dreamcoat," and "Evita" - so I was pretty confident I'd enjoy it. But how in the world can you put on a whole show about our feline friends?
The lyrics are based on Old Possum's Book of Practical Cats, written by T. S. Eliot and published in 1939. According to the McCain program, most of the poems from the book were set to music complete and in their originally-published form, a few were revised slightly, and eight lines were added to "The Song of the Jellicles." Some of the lyrics, most notably the story of "Grizabella," were discovered among the unpublished writings of Eliot.
Eliot wrote that, "a cat must have three different names ... the name that the family uses daily . . . a name that's particular ... and more dignified ... and the name that you will never guess - (the one) the cat himself knows."
The cats of the show certainly had "particular" names. I can't say I've ever run into cats with names such as these. There was shining Mistoffelees, calico Bombalurina and tattered Grizabella. Mom thought Old Deuteronomy was exceptional. Katie liked Mistoffelees and Rum Tum Tugger. Rum Tum Tugger reminded me of Elvis Presley. He swung his hips and belted out his songs while the female cats swooned around him. I referred to him as the Elvis cat throughout the production. Mariya liked him and Bombalurina
From start to finish, the felines on stage kept my attention. They stretched, slunk along, cleaned behind their ears with their front "paws," played with their own tails and those of their companions, hissed and meowed. When the lights were low, their eyes even glowed in the dark.
And they didn't confine their actions to the stage either. Several times throughout the production, a few cats made their way along the aisles, stopping to stare at the humans who came out to see them. I was glad to have an aisle seat where I could see every whisker. Katie said that was probably "the coolest thing about the whole show." Mariya said, "I loved how they all interacted so much with the crowd."
I guess anyone could tell I more than enjoyed it. I came away with a new appreciation for the work it takes to be an actor, singer and dancer rolled into one - and doing it all while in full costume and make-up!
And it wasn't just me. "The show was fun for all ages," Mariya commented.
Katie had even higher praise. When we arrived home, she sprinted up the steps, and announced to Art, "That was awesome! That was the best show I've ever seen - including 'The Sound of Music' - and you know how much I liked it!"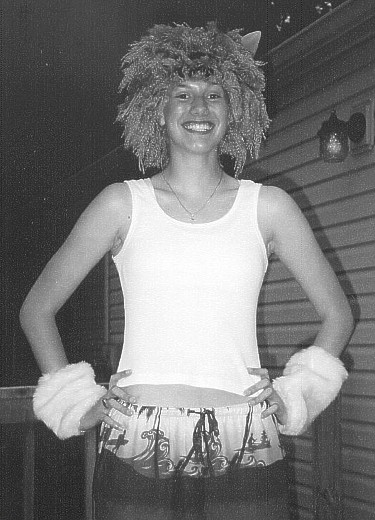 Mariya dons her cousin Larisa's costume from "Cats."