Snapshots by Gloria Freeland - Dec. 4, 2003
Turkey and cow pies
Last week, we hosted Thanksgiving dinner at our house - just as we have the past 11 years. The tradition began in 1992, the Thanksgiving Day we brought two-day-old Katie home from the hospital.
That year, with Katie bundled up in a tiny pink sweater set with matching hat, we arrived home and were immediately surrounded by the aroma of a turkey roasting in the oven. What a nice homecoming!
Art had arisen early to prepare a feast that could have fed an army. Instead, it was just him, me and 6-year-old Mariya sitting down to eat. Katie peacefully slept in a basket beside the table.
The following day, my parents and my brother and family joined us for leftovers. The day after that, the girls' Johanning grandparents came for more leftovers. And the following day, we had leftovers, followed by a large helping of leftovers, capped off with leftovers.
Since that year, the expectation is that Thanksgiving will be at our house. It's fine with Art and me - especially since Art does most of the cooking. The menu doesn't change from year to year. Art says if it did, it wouldn't be a tradition.
We always have a 20-plus pound turkey with stuffing, mashed potatoes, yams, green beans mixed with mushroom soup and cashews (not the French fried onions some recipes call for), cranberry sauce and bread. My sister-in-law brings pumpkin bread and "pink fluffy salad," my Mom brings a pie or two and whoever else comes might bring dessert or salad.
Maybe it isn't just the "tradition" thing that makes Art want to stick to the tried and true. He and I joke about some of the recipe experiments of the past. One year, I tried a recipe I'd seen in a magazine. It called for regular potatoes and sweet potatoes. Once the two were mashed, I put dollops of white potatoes on a greased baking sheet and then dollops of sweet potatoes on top of them. I think I was supposed to use a special kitchen gadget - the kind that's used for icing cookies - but I didn't have one. The potatoes tasted good, but Art described them as looking like "cow pies." Although I only tried that recipe once, it has made its way into the family Thanksgiving lore.
Over the years, I've learned to stay out of Art's way in the kitchen. He's a "my way or the highway" kind of chef so I know that my job is to be his support staff. The night before Thanksgiving, I might bake bread and pies and cook the cranberries because I know he doesn't want me in the kitchen when he does his thing.
On Thanksgiving Day, I hover in the wings waiting for my cue to lend a hand in whatever way might be needed. It used to bother me that Art shooed me out of his way, but now that we've been married awhile, I understand that it's just his "lead, follow or get out of the way" personality coming to the fore.
And I must admit it's nice to let someone else be in charge of the kitchen for the day. It gives me more time to enjoy the people we've invited. And somehow the food just tastes better when someone else does the cooking.
Art agrees with that, too. Some years he doesn't even sit with the family during the meal, staying in the kitchen until the bird has been reduced to a carcass by carving. He says he doesn't care because after cooking all day, the food doesn't taste that good to him. But the next day - and the day after that and the day after that, it will taste great.
For all the fun generated by getting together and the anticipation beforehand, I always spend a few minutes thinking of past Thanksgivings and of those who are no longer with us. For a moment, it makes me sad, but then I think about how full my life has been by knowing them - and I am truly thankful.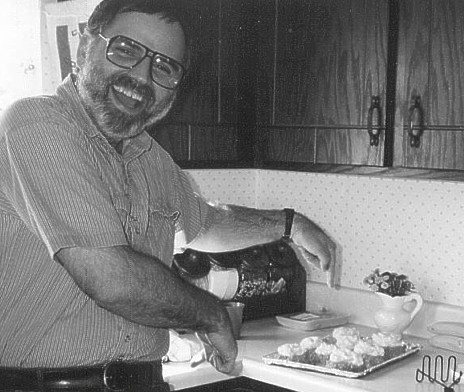 Art made fun of my "cow pies" - Thanksgiving 1990.