Snapshots by Gloria Freeland - Nov. 27, 2003




A Thanksgiving poem

Thanksgiving is a special time when families gather near.
To eat and laugh and reminisce - to celebrate the year.

The turkey's in the oven, the yams are cooking, too,
The cranberries cool upon the shelf, there's so much left to do.

The spuds are boiling in the pot, the bread is rising high.
The flavors tempt the tongue and nose - oh, smell that pumpkin pie!

The yellows, reds and golds of autumn make the table bright.
Chrysanthemums and gourds and leaves are such a lovely sight.

Outside the days are cooler, but the warmth inside is strong.
Cooking food and easy laughter mix with childhood song:

"Over the river and through the woods ..." - the verse sparks conversations
Of family traditions, new and old, that span the generations.

The biggest blessing of the day is the time we sit and share.
To show the people that we love, how much we really care.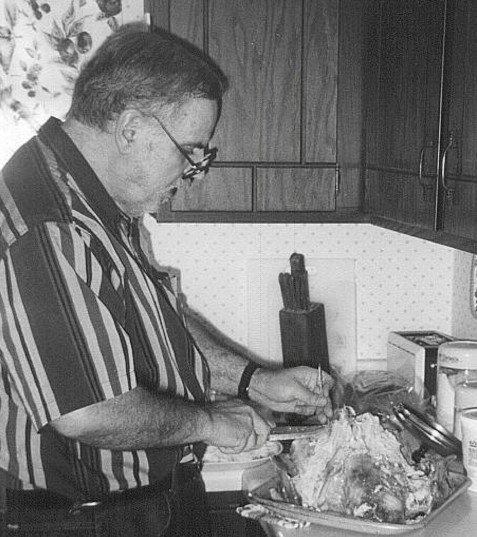 Art carving the turkey, 2003.