Snapshots by Gloria Freeland - Nov. 13, 2003
"Merry Thanksgivoween"
I enjoy decorating our home for the holidays. I sometimes get a little behind with decorating, mainly because the holidays are stacked so close together in the fall. But that doesn't stop me from enjoying each one separately.
Halloween included primarily orange, black and white decorations. Bats, cats, ghosts, owls, pumpkins, scarecrows and witches hung from hooks, draped on ledges and filled up tables. I put those away last weekend. I kept a couple of pumpkins we didn't cut into jack-o-lanterns. They hadn't shriveled or rotted so they'll do double duty for November's Thanksgiving theme.
That's about as far as I'll go with "cross-holiday decorating," which must be a new trend.
I saw a recent headline - "Cross-holiday decorating saves you time and trouble." The Boston Globe writer asked, "Wouldn't it be great if there were all-purpose decorations to get you through most or all of the holiday season? Perhaps it's not a far-fetched notion. . . We asked some designers what they would put on their front door that could withstand constantly changing weather and holidays."
The writer quoted a floral designer who uses "a lot of green and white gourds for outdoor decorating as well as white pumpkins, blue-green Hubbard squash and kale plants in white and purple." The designer continued, "Later we add a backdrop of evergreens such as boxwood, Alberta spruce, arborvitae or cypress, so it doesn't scream Christmas but it does say winter."
I don't know about the designer, but it made me want to scream.
An editorial cartoon by Mike Thompson of the Detroit Free Press appeared recently in The Manhattan Mercury. The cartoon showed a home decorated for the holidays. A banner across the eaves read "Merry Thanksgivoween - Sept. 1 thru Jan. 1." A wreath with little ghosts and a bow that said "Boo! Boo!" hung on the door. A window decoration showed Santa and his sleigh - with a pumpkin inside - being pulled by a turkey. A snowman wore a Pilgrim hat and held a trick-or-treat bag on his stick arm. A jack-o-lantern on the steps also donned a Pilgrim hat and had a Santa mustache and beard. A startled man and woman walked by and the woman said, "Guess it was inevitable."
How odd we humans are. When I was young, Christmas was the big holiday and Halloween and Thanksgiving were pretty much restricted to being celebrated for only a day or two. But it seems that our love for the holidays - with a little help from retailers - has us decorating for each one weeks in advance. Now it appears all the decorating is becoming a hassle so we're looking for ways to cut corners.
Last week I passed a home that had a Christmas tree in the front window. That was too much for me. Art drew his line in the sand long ago. He refuses to talk about or plan for Christmas until after Thanksgiving has passed. I'm a member of that movement, too.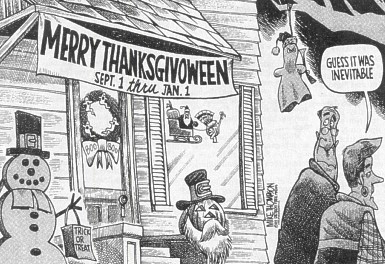 Editorial cartoon published in The Manhattan Mercury.