Snapshots by Gloria Freeland - Nov. 6, 2003
Turn around and they're tiny, turn around and they're grown
The baby bat, Care Bears, girl-in-a-pink-bubble-bath, Sponge Bob Square Pants and pumpkins at last weekend's Halloween festivities in the Riley County Grade School gym brought out the "Aren't-they-adorable? I-remember-when-my-kids-were-that-little" response in many of us adults.
Our girls dressed up for Halloween. Katie was "the ultimate" K-State fan with her purple wig, purple T-shirt, purple beads and Powercat socks and face tattoo. Mariya - donning a blue wig and black top and pants - was Sydney Bristow, the CIA spy from the TV show "Alias." Mariya took Katie out trick-or-treating before joining her friends for a scary movie marathon. I'm glad they enjoyed the spooky holiday, but I found myself thinking back to when they were little.
When Mariya was a year old, she wore a little devil costume - a red sweatsuit with cape and horned hood. Katie's first costume was an orange pumpkin sleeper with a green stem on the matching hat. I gave the red devil costume to my sister when her daughter was born. I saved Katie's.
I came across it a few weeks ago when I decided to go through the girls' baby clothes. Katie complained that her first costume wasn't as cool as her big sister's. I should have told her it was either the pumpkin or Barney. That would have stopped her as she doesn't like the purple dinosaur.
Why I saved so many of the girls' clothes, I really don't know. Mom saved only a few of my outfits - one pink baby dress with matching bonnet and bloomers that she made, a red and white checked dress with smocking that she also made, a white taffeta dress with apricot cummerbund I wore at my paternal grandparents' 50th anniversary and a delicate white one my aunt and uncle brought me from Sweden.
I went through the girls' clothes recently in an effort to find some more storage space. I felt it was time to give some of them away, but I wasn't very successful.
In Mariya's pile, I found the newborn sleeper with giraffes that my first husband's parents had given us the Christmas we found out I was pregnant. It was the sleeper Jerome held up on Christmas Day and exclaimed to his parents, "I can't believe the baby is going to be this small!" The day after that he went into a coma and he died five weeks later. Also among Mariya's clothes was the pink T-shirt she wore home from the hospital that hot day in July. A pink "I'm Mommy's girl" newborn dress, the dress she wore her first day of kindergarten, Christmas outfits made of velveteen and trimmed with bows and lace, and T-shirts covered with Disney characters were also in the stack.
Katie was born in November so her newborn clothes were warmer. Among the clothes I'd saved for her were white, pink and light green newborn sweater sets, a white sleeper with a Christmas bear on the front, a tiny pair of jeans with patches and lace sewn on the legs, her Halloween pumpkin outfits and the dress she wore her first day of kindergarten. She also had her share of Christmas dresses made of velveteen and trimmed with bows and lace and T-shirts covered with Disney characters.
I took out the clothes that had slight stains on the front and put them in the give-away pile. Still, each girl ended up with a large plastic storage box of clothes plus one each filled with baby afghans, receiving blankets and quilts.
I guess I really didn't need more storage space after all!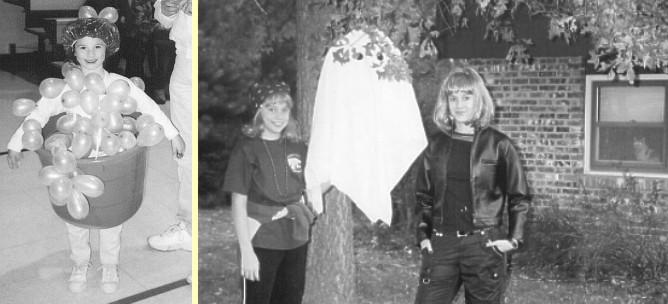 Little bubble girl, left photo, and in right photo, ultimate K-State fan, left, tree ghost,
Sydney Bristow and Cookie (looking out basement window), Halloween 2003.