Snapshots by Gloria Freeland - Sept. 11, 2003
Variety is the spice of life
Growing up on a Kansas farm, I was accustomed to hearty simple food - fried chicken, mashed potatoes and gravy, green beans and the like. The first "exotic" food I remember tasting was the red snapper Aunt Hazel grilled for us when we traveled to her home in southern California. She served a salad with avocados along with the fish. I thought both were delicious.
Further adventures with food came when I was a Peace Corps volunteer living on the Pacific coast of Ecuador. There, I sampled shrimp, lobster and all other manner of seafood - including octopus. I tried cooking octopus once, but it ended up so rubbery I couldn't eat it. I loved the fruits that grew in the tropical regions - papayas the size of Kansas watermelons, mangos, pineapples, bananas and oranges. It was in Ecuador that I first learned to like coffee, although it was really café con leche - hot milk with very little coffee in it. It was also in Ecuador that I tasted soup with pork rind - the pig's bristles still in the rind. I had to eat some of it so my hosts wouldn't consider me rude.
Art and I like to try different foods when we travel. One time in Germany, we ordered eel. It was oily and slimy and rates about even with the pig-bristle soup on my list of things never to eat again.
The first time I was in France, I couldn't really understand anything on the menu except salade - salad - which I thought would be safe enough. Out came a huge bed of lettuce with chicken livers piled high on top of it. I can handle one chicken liver, but not a pile of them.
I had better luck when I ordered crêpes in France. You can't do much to a crêpe to ruin it.
When we were in Europe last summer, we sampled many different foods - with British and German friends in their homes, in Great Britain's version of Denny's, at sidewalk cafés in Paris and even under the Eiffel Tower.
Our British friend Jan fixed us several meals. Yorkshire pudding was a new experience at one of them. When I think of pudding, I think of a sweet dessert, but this was a light airy bread that looked and tasted a bit like quiche when it came out of the oven.
When we were in London, Art decided to try "spotted dick" because he's heard it mentioned on so many of the British television shows he watches on PBS. He was curious as to what it could be. It turned out to be somewhat like bread pudding. The "spots" were raisins.
On one of our days in Paris, we decided to splurge on a big lunch because we were famished from all the walking. Art had fried chicken and mashed potatoes, Mariya had pasta with salmon, Katie had a hamburger and fries and I had steamed vegetables served on top of steaming mashed potatoes and covered with cheese. Nothing special there, but the bill was. Our meal cost us $100!
Some choices we made weren't as good as others. One hot afternoon after sitting under the Eiffel Tower watching the people, vendors and birds for several hours, we bought hot dogs, fries and drinks. Because we were hungry, the first few bites of the hot dogs tasted pretty good. But soon, Mariya described them as "grease wrapped in plastic."
In Germany, our favorites were "würstchen" (little sausages) and sauerkraut in Nüremberg. Our friends said the Nüremberg würstchen are the best because of the spices they have in them. Another favorite for me - mainly because I'd never seen it before - was a Kloss, which is a type of dumpling the size of an orange with what looked like a crouton in the middle. The Kloss is traditionally served with "Schäufele" (pork shoulders) and other dishes, much like our potatoes accompany a lot of things.
Of course, if we wanted to play it safe at meal-time, we could eat at McDonald's, Burger King, Kentucky Fried Chicken or Pizza Hut because they were in plentiful supply. However, we resorted to that only twice in our four weeks overseas.
Another alternative if we were tired of experimenting was to buy pizza or ice cream and sit on a city park bench to eat it - or to buy bread, cheese and chocolate bars for our roadside picnics.
Variety may be the spice of life, but familiarity brings us comfort. We need some of each to provide balance.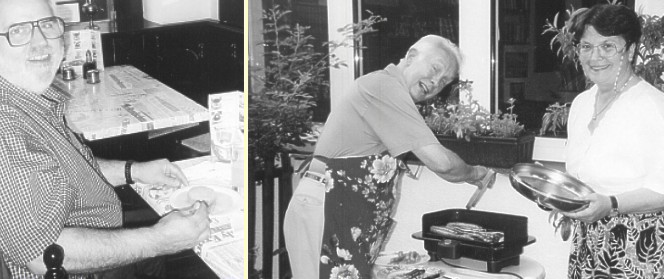 Art, left, trying out spotted dick in London. Right, friends
Güntor Kohler and Bärbel Filter prepare Nüremberg sausages.