Snapshots by Gloria Freeland - Aug. 28, 2003
New year resolutions
Many people plan their lives based on a year which begins in January and ends in December. Businesses often base their plans on a fiscal year, which frequently starts July 1 and ends the following June 30. The calendar I use the most is based on the academic year - both because our girls are in school and because I teach at K-State. So my new year began last week, punctuated by temperatures that switched from just plain hot to blazing hot.
Mariya started her senior year of high school and Katie began her fifth grade year. But I have them both beat. It's my 21st year at the University, and that's not counting those spent as a student.
The new school year is marked by parents of grade and high schoolers paying for lunches, yearbooks, class dues, new clothes and school supplies. University students - or their parents - have paid tuition, fees and other expenses necessary to launch a life away from home - rent, a tank of gas and a cupboard full of groceries, for example.
Along with acquiring new supplies and starting new schedules, a new year is a time to make resolutions - a time to start with a fresh slate.
Students want to keep their grade points up, make new friends, join new clubs. Teachers want to bring out the best in their students and to keep learning themselves.
One of my "new year" resolutions is to learn more computer applications. Others are to try to "chill" and still get things done that are important, to walk at least three times a week on the beautiful campus, to enjoy my daughters' school activities and, with each passing day on the calendar, to try to let them go as they move toward independence.
Last week, the fifth grade teachers at Riley County Grade School gave their students some "essential rules," adapted from The Essential 55 by Ron Clark. One rule is to "surprise others by performing random acts of kindness."
Others from their list include:
*Stand up for what you believe in.
*If there is something you want to be, do whatever is necessary in order to live out that dream.
*You only live today once, so don't waste it. Life is made up of special moments.
Unfortunately, making resolutions is a bit like deciding to go on a diet or to clean out clutter - a whole lot easier to state some lofty goal than it is to carry on with it each day. But just because they are hard to stick to doesn't mean that making them is of no value. Any teacher or parent has stories about how some small event or something they said made a big difference in a child's life. Often these were things that the adult didn't even think of as being important at the time.
I think resolutions may be a bit like that. Most will be made and almost as quickly forgotten. But as my new year begins, I feel if only one resolution has the desired effect, it will be worth the effort having made it.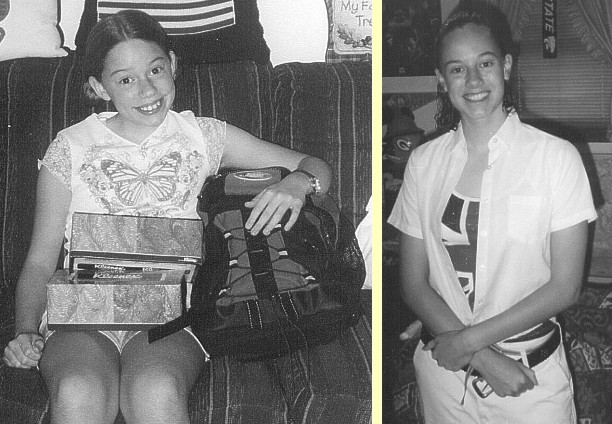 Katie, left, began her first day of fifth grade and Mariya
began her senior year of high school on Aug. 18, 2003.
2003 Index