Snapshots by Gloria Freeland - July 24, 2003
Swedish Smörgåsbord
If it hadn't been for the hot, sticky weather outside, I could have sworn it was Christmas.
My Aunt Edith decided one Sunday this month that it was time to fix a meal that Swedes typically serve during the holidays.
I'm not sure what prompted her desire to do this, but on a trip to Lindsborg with her daughter and son-in-law, Edith stocked up on Swedish food items and napkins with Swedish prayers imprinted on them. She invited all of us to Council Grove to partake of the feast.
When Mom, my sister and our girls got out of the van, the smell of fish hit us. "Must be the lutfisk," I thought.
"Ew, what's that smell?" one of the younger girls said.
Even though I'm half-Swede (Mom and Edith's parents were Swedish so the two of them are full Swedes), about the only time I remember eating Swedish food was when the K-State Union served a holiday smörgåsbord. Mom and Edith have reminisced at times about Swedish food over the years, but neither has fixed it much. So I was curious to see just what Edith had prepared.
She led us into the kitchen and, as she lifted each pot lid, explained a bit about the food inside.
"Here we have the lutfisk," she said. The smell became even fishier.
Edith and Mom said their Dad Nels used to buy planks of the dried cod in Dwight. He and their Mom Hulda soaked the fish in water, then in wood ashes to loosen the flesh, then in water again to rinse out the lye. They joked that they thought Grandpa soaked it so long because he remembered when he was in Sweden that the fish was laid out along the docks to dry and then dogs would come along and lift their legs on it.
Appetizing.
"And here are some corn doggies in case people don't like the rest of the food," Edith said, laughing.
She showed us the remaining dishes - gravy to go on top of the lutfisk, new potatoes with sausage, rice pudding with raisins mixed in, fruit soppa, a jar of pickled herring, cole slaw, baked beans, rye bread and ostkaka (a custard-like dish) with lingonberries.
"For dessert, here are some pepparkakor - ginger cookies," Edith said. "You make a wish, tap the cookie with your index finger and, if it breaks into three pieces, you get your wish."
Katie brightened up. "One of the boys in my class is Swedish and he explained that same custom to us," she said.
The girls tried it and ate the pieces, rapidly decreasing the number of heart-shaped cookies in Edith's bowl.
The trivets, mugs and napkins with a Swedish prayer added a touch of authenticity to the meal:
I Jesu namn till bords vi gå
Välsigna Gud den mat vi få.
Gud till ära, oss till gagn
Så få vi mat i Jesu namn.
In Jesus' name to the tables we go.
God bless the food we receive.
To God the honor, us the gain
So we have food in Jesus' name.
Most of the food was delicious. But the lutfisk? Well, it looked a bit like a gelatinous blob, and I couldn't help thinking about the dogs.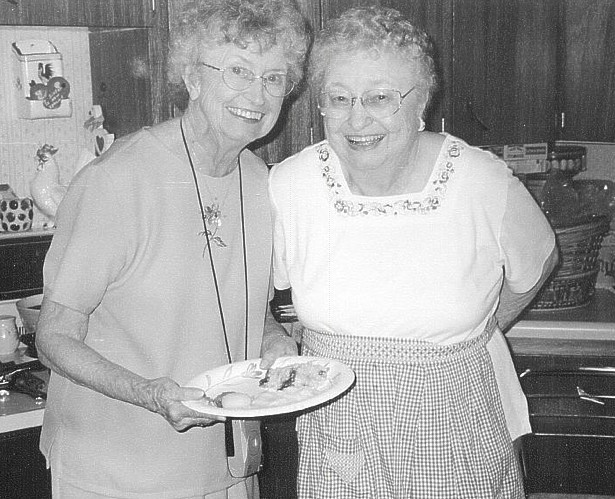 Swedish sisters Edla Mostrom Freeland and Edith Mostrom Keys enjoy
some typical Swedish food prepared by Edith in summer 2003.