Snapshots by Gloria Freeland - May 22, 2003
Something beautiful remains
For more than 56 years, Mom and Dad were a pair. When I go through my photo albums and sort through my memories, there the two of them are - first as young lovers, then, in succession, newlyweds, a farm couple, parents, grandparents. It doesn't seem right that it's now just "Mom" or "Grandma" and not "Mom and Dad" or "Grandma and Grandpa."
It's been a little more than six months since Dad died. Mom survived Thanksgiving, Christmas, New Year's, Valentine's Day, her birthday and Mother's Day without him - those beautiful holidays that are gut-wrenching the first time they are experienced after the death of a loved one. And on May 19, Mom made it through what may have been the hardest day - their anniversary.
Of course there are more firsts: Father's Day, the 4th of July, Dad's birthday in August.
Mom will survive - because she's strong and because there's really no other choice.
I know because I was a widow, and I can understand at least some of what she's going through. Of course, it wasn't the same because Jerome and I had been married only six years instead of 56. But the feelings of numbness, denial, loneliness, anger and finally, acceptance are there regardless of the circumstances.
I found that remembering the happy times were what helped me the most after Jerome's death. A poem on a sympathy card I received those many years ago gave me some comfort and it still does:
"The tide recedes, but leaves behind bright seashells on the sand.
The sun goes down but gentle warmth still lingers on the land.
The music stops and yet it echoes on in sweet refrains.
For every joy that passes, something beautiful remains."
There were so many joys in Mom and Dad's life together. Three children, six grandchildren, attending the wedding of their eldest grandson, a good life on the farms, travels to Hawaii, the East Coast, California, Costa Rica and Bolivia, dogs and cats they lavished with attention, involvement in their communities, and love for life. Even at the end Mom was with Dad, loving him and caring for him.
On this Memorial Day, I hope Mom can keep these joys close to her heart. In time, the pain will lose its hard edges and the memories will make her smile. Something beautiful remains.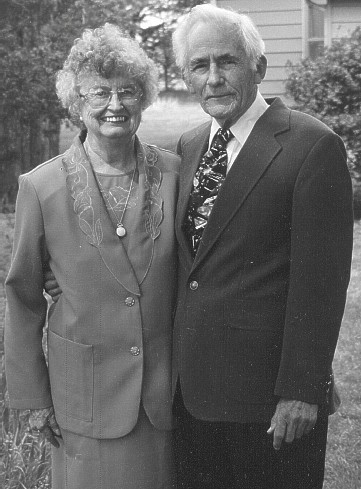 Edla and Edgar Freeland on their 50th anniversary: May 19, 1996.