Snapshots by Gloria Freeland - April 3, 2003
The wedding planner
My best friend from high school and my best friend from college are helping their daughters plan May weddings. Lori is the first of Joyce's three daughters to get married and Stacey is the first of Deb's two daughters to tie the knot. Joyce and Deb are, shall I say, going slightly crazy. Deb has warned everyone that she will be a basket case when it's over. To top it off, she turns 50 the week after her daughter's wedding.
Deb has been at it for more than a year, and the details are mind-boggling. She says she has files for each aspect of the wedding: invitations, dresses, men's attire, flowers, photographer, videographer, reception, music. Joyce is letting Lori take care of most of the minutiae of her wedding, but is worried about Lori's procrastination.
I'm amused, but only slightly. Watching Joyce and Deb may be a preview of what is down the road a few years for me since we have two daughters. But I can always hope they follow in my footsteps and take a simpler approach. I've often joked that I could be a wedding planner for simple weddings since I planned both of mine in less than two months.
When my folks and sister visited me in Costa Rica in July 1979, I announced the night they arrived that I wanted to get married on the farm in September. I don't remember any hysterical questions like, "Are you crazy?" from either of my parents. My sister was upset I had the audacity to make such a big decision without her meeting my fiancé first, but she got over it.
While they were in Costa Rica, we selected material for my dress and my bridesmaids' dresses, had invitations printed and addressed, and talked over details. Perhaps the most unusual request Jerome and I had was wanting our wedding cake to be shaped like a duck. Our favorite spot in San José was a duck pond. That request went to his Mom, though, so my Mom didn't have to deal with it.
Once we got home, there were some details we had to take care of. Jerome rented tuxes for himself and the men in the wedding party, we borrowed tables and chairs from the church for our outdoor ceremony, we talked to the minister, Jerome arranged to put a tape player in one of the east windows of the house so we could hear the music outside, and, on the day of the wedding, we gathered sunflowers to put in containers. It felt pretty low-key to me. On the other hand, Mom and my other relatives have told me about some of the behind-the-scenes things they took care of that I was blissfully unaware of.
When Art and I decided to get married in 1988, we were planning a New Year's Eve wedding. However, when my sister arrived from Bolivia in early June to spend the summer in Kansas, she announced that she was pregnant and that her first baby was due in January 1989. There would be no way she could travel in December. I wanted her to be present at our marriage, so Art and I quickly moved the wedding date to July - just six weeks away.
My boss joked that it was the first time he'd ever heard of someone having to get married because her sister was pregnant!
We jumped into action mode - getting our marriage license, finding a place for the reception, mailing invitations, deciding on food and flower arrangements for the tables, asking a friend to play his guitar, asking another to make a simple suit for me.
Maybe that's the key! There really were quite a few details - even for two "simple" weddings. But with time being short, we eliminated the weeks or months that might have been spent agonizing over each decision.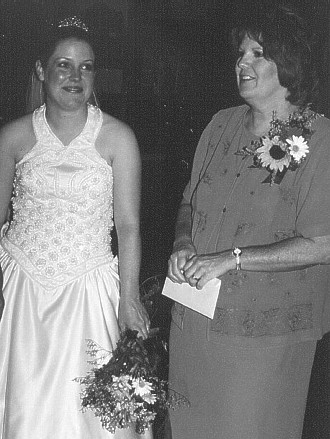 Stacey Wilds Wager and her Mom Deb Wilds
on Stacey's wedding day - May 18, 2003.