Snapshots by Gloria Freeland - March 20, 2003
March celebrations
Some of my favorite people have birthdays in March. Mom turned 79 on Tuesday. My mother-in-law will be 93 on March 31. Two friends also have birthdays this month.
This is Mom's first birthday without Dad, and I know it will be a tough day for her.
When her birthday came around two years ago - the first year the folks lived in Manhattan - they went grocery shopping at Dillon's. Mom left Dad on a bench at the front of the store since it was hard for him to get around. When she was done getting groceries and was ready to check out, she was startled to see that he wasn't where she had left him. She looked around and found him in the card aisle picking out a card for her. It was a pleasant surprise because she wasn't sure how much Dad could remember.
In their earlier years together, Dad always remembered Mom's birthday, and he enjoyed picking out something nice for her. He liked to buy Mom clothes, and he had great taste, choosing styles and colors that flattered her blue eyes, brown hair and slender frame.
For Mom's 75th birthday, which we celebrated on the farm, we asked family and friends to bring 75 of anything they wanted. One person gave 75 pennies; another brought 75 paper clips; still another presented Mom with a 75-watt lightbulb. Dad got the biggest kick out of the birthday cake with its 75 candles. I have a picture of him using a dish towel to fan the smoke away from the kitchen smoke detector after the candles set it off.
My mother-in-law lives alone in the house my husband grew up in. Although she questions how long she'll be able to live there by herself, she still does her own cooking, cleaning and laundry as well as buying her own groceries and doing other errands. I wish we didn't live so far away so we could drop in on her once in awhile.
For her 90th birthday, we surprised her by traveling the 12 hours to Appleton and showing up at her front door. This year, just as last, I'll send her a loaf of Amish Friendship Bread. She loves it so much that she refuses to share it with anyone, allowing herself only one slice a day to make it last longer.
Every time I make the bread I think of Jeanie, who gave me the bread starter a year ago this past Christmas. Her birthday is this month, too. I had never tried that type of bread before, but I really enjoyed "mushing" the goo in the Ziploc bag, letting it sit, then adding flour, sugar and milk, mushing it some more, and then re-doing those steps over an 11-day period. I made a couple of loaves the first year and froze the rest of the batches to make later. This year, I baked four loaves and still have starter to spare. It's the gift that keeps on giving!
She and I graduated from high school the same year and we both were Peace Corps volunteers. Although she doesn't live next door any more, we still see each other now and then, and our mothers have become acquainted.
Another friend, Marcia, cared for our daughters when they were small and became a part of our family. When I was very ill, she brought casseroles to feed our family. I love walking into her home because it is always cozy and welcoming and it is usually filled with the aroma of something delicious cooking or baking. I don't see her as much any more, but I always remember her March birthday.
Spring starts in March, signaling the beginning of new growth. But for me it is also a good time to think of old friends.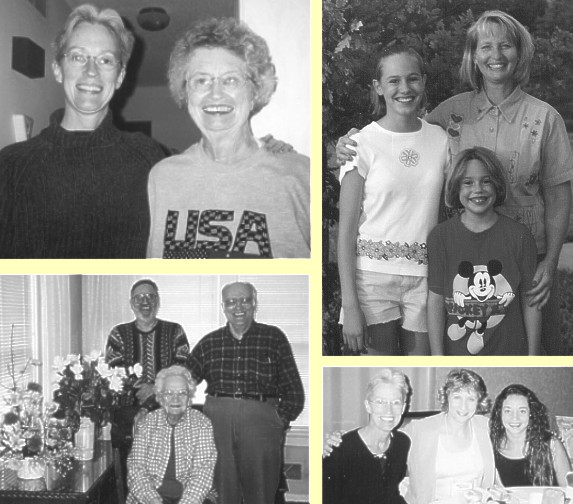 Favorite March birthday girls: top left, Mom Edla Freeland with me;
bottom left, mother-in-law Donna Vaughan with sons Art and Tommy;
bottom right, former neighbor Jeanie Racoma with me daughter Heidi;
and top right, former babysitter Marcia Goff with Mariya and Katie.