Snapshots by Gloria Freeland - Feb. 27, 2003
Hi, Homer, hi, Gloria!
Cecilia and her things made it back home to Bolivia safely last week - except for the worm on the clay apple she made in art class. Cecy said it looked fine after she glued its head back on.
Our girls had said their goodbyes and presented a couple of last-minute gifts the night before Cecy left. Katie's was a key chain with "I love basketball" on it - to remind Cecy of her driving lessons with Art and her attendance at Lady Cats basketball games. Mariya gave her a CD, a vase she made in art class and the words to the little ditty, "Great green gobs of greasy grimy gopher guts . . ." - so she can impress her friends with the English she picked up.
On the way to the Kansas City airport, we stopped to eat. Art and I presented her with a silver necklace and mustard seed pendant inscribed with the Matthew 17:20 verse: "If ye have faith as a grain of mustard seed, nothing shall be impossible unto you." She had noticed the one I often wear and thought it was nice.
At the airport, we dragged her two big suitcases, a smaller one and her backpack to the counter, hoisting them one at a time onto the scale. One bag was eight pounds overweight. Cecy could either pay $100 or re-distribute items to her other bags.
"Just what we need," I thought.
But we did what we had to do. We got out of the line, dragged the suitcases to the side and began going through them. The first thing we did was take shoes out of her carry-on bag. She decided she didn't really need to keep the snow boots purchased here since snow is rare in La Paz. Into a plastic shopping bag they went along with another pair of shoes. "I brought too many shoes anyway," Cecy said.
Then we took the pieces she had made in 3-D art class and moved them to the now nearly-empty carry-on bag.
After removing magazines, newspapers and other paper items, we thought we'd licked the problem. Back to the line she went. Success! Art helped her take the bags she was checking to a side room where security X-rayed them. The big one was still heavy enough the agent pulled the handle off when he lifted it up. The handle had to be packed inside.
That was followed by an hour-long wait before boarding began. Cecy got tired and rested her head on my shoulder for a few minutes.
Then it was time to say "goodbye." I had been fighting tears most of the day. I lost the fight when Art and I gave her long hugs and watched her go through the security gate. She and Art were always kidding each other about watching "The Simpsons," so when he hugged her, he said, "Goodbye, Marge!" She responded with, "Goodbye, Homer."
The rest of the day, we kept mentally tracking where Cecilia would be. "She's taking off from Dallas now," or "She's waiting in Miami now," or the next morning when we woke up, "She should have arrived home an hour ago."
We were as relieved as any parents would be when we found out she got home safe and sound.
"Hi, Homer, hi, Gloria," Cecy's e-mail began.
She told us how her trip had gone and how excited her parents and siblings were to see her.
And she said, "You'll always be my family - Homer and Gloria my Kansas parents and Mariya and Katie my sisters."
And Cecilia, you'll always be our special Bolivian daughter and sister.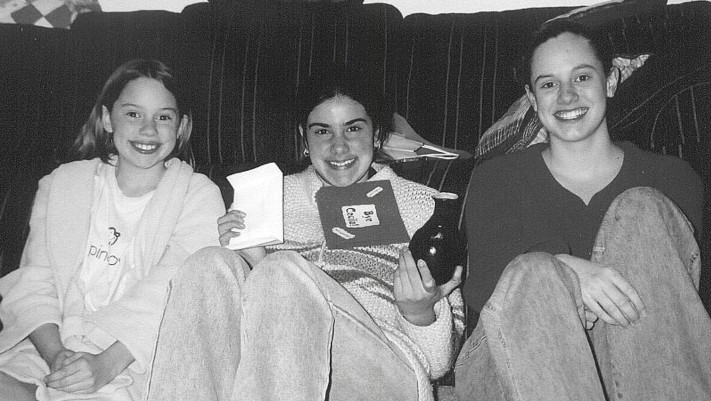 Katie and Mariya give Cecy going-away gifts.