Snapshots by Gloria Freeland - Feb. 20, 2003
From the heart
I'm sipping coffee from a mug decorated with pink and red heart-shaped Smiley Faces. The handle is red and heart shaped too. Last year I bought a couple of the mugs at a clearance sale for the grand sum of $1. I gave the other one to my college roommate as a gag gift.
The mug reminds me of our recent Valentine's Day. I guess I'm old enough and have been married long enough that I don't really expect much on that day. When I was younger, I remember pining away for flowers or maybe a box of chocolates or some other token of my true love's affection.
But other signs of devotion have been much more appreciated over the years - like Art being by my side when Katherine was born or helping Mariya when she was first learning to drive or making me laugh or taking care of me when I was in the hospital.
Besides, Art made it clear from the beginning of our marriage that he didn't buy into the holiday spending frenzy. That's not to say he doesn't get me anything. Some years, he gave me the traditional flowers, candy or perfume.
My favorites, though, are the unique gifts he made himself and spent extra time on. One year he borrowed the key to my office from a colleague and strung individually cut-out, six-inch-high letters spelling H-A-P-P-Y-V-A-L-E-N-T-I-N-E-'-S-D-A-Y from one side of the room to the other. Another year, he blew up multi-colored balloons and arranged them in a vase like flowers.
This year I was surprised at work to receive a CD of some of our favorite songs - Silver Threads Among the Gold, St. James Infirmary, Candle in the Wind, My Way, Jeremiah Was a Bullfrog, Dust in the Wind, We Will Rock You and others. Art labeled the CD - which he burned himself - "An Eclectic Valentine."
As much as I liked the CD, Art gave me something else which REALLY made me happy - a Valentine meal that I had absolutely nothing to do with. The main dish wasn't fancy - no steak or shrimp or anything like that. He made a casserole that his Grandma Vaughan made for family meals. It consists of hamburger, onions, potatoes, canned peas, tomato soup and catsup mixed in a crock pot and cooked several hours. He recently shared the recipe with Vaughan relatives in an e-mail titled "Grandma Vaughan Lives On." He received responses from several who said they remembered the dish and thought they just might make it themselves.
To accompany the hearty comfort food, Art warmed French bread spread with butter and garlic.
The table was set when I got home. We were having friends over, so Art added leaves to the table. The only tablecloth we have to fit the larger table is an orange, brown and gold one that we use at Thanksgiving. So he put it on, set the plates and silverware out, and placed Valentine cookies with pink frosting and sprinkles in the middle of each plate.
The masterpiece, though, was his white heart-shaped layer cake with lemon pudding in the middle and topped with white frosting sprinkled with coconut. I thought I had died and gone to heaven! It was a Valentine's Day from my King of Hearts.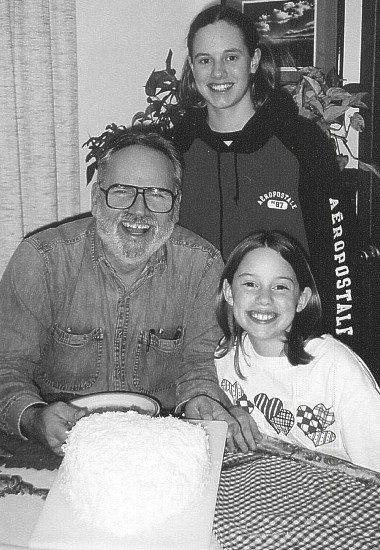 The girls, Art and his heart-shaped cake, Valentine's Day 2003.
The cake is sprinkled with shredded coconut.