Snapshots by Gloria Freeland - Jan. 16, 2003
It changes, but it never changes
Our home briefly became a beauty salon Saturday afternoon. Mariya, Cecy, Eleanor and Maggie were going to the dance at the high school that night and our place was chosen as the one where they would "do" their makeup and their hair.
Maggie was the hair stylist, perched alternately on the edge of Mariya's bed or the couch in the living room as one by one the others sat on the floor in front of her. She brought a duffel bag full of supplies - Seventeen magazines for styling ideas, gel, hair spray, clips, bobby pins and rubber bands. Maggie seemed pleased with her efforts, yet slightly apprehensive as she finished each girl's hair. But she needn't have worried.
"Awesome," was the most common response as each girl went to the bathroom mirror to check her "do."
Cecy and Mariya's featured the spiky look so in fashion today.
"Gals wouldn't have worn their hair like that when I was in high school," Art said. He had appeared about mid-way through the beautification process. "People would have said they looked like they had stuck their finger in a wall outlet."
The girls just giggled. They knew he had e-mailed Cecy's parents the day before with details about the upcoming dance, ending with the comment, "I'm glad I'm not a gal."
For Cecy and Mariya, getting ready had begun the day before when they had manicures - a Christmas gift from me. Mariya had French tips while Cecy's nails were pink.
While Maggie was working on Eleanor's hair, Cecy and Mariya were in the bathroom, helping each other with their makeup. When they finished, Cecy helped Eleanor curl her eyelashes, a task made more challenging by Maggie moving Eleanor's head this way and that as she worked on Eleanor's braided rows.
The girls were supposed to meet some classmates to go bowling before their pre-dance dinner, but Cecy's hair was just being started at the time the bowling party was to begin. Mariya called the bowling alley and asked a friend to hold their dinner reservations.
While Cecy's hair was being completed, Eleanor and Mariya went off to a friend's house to borrow some shoes.
When all were finally finished, there was a flurry of picture taking and out the door they went.
I told Art I couldn't remember spending that much time on my appearance.
Except for that time in high school when I spent hours at a beauty parlor before a big dance. Oh, and the high school slumber parties where we did each other's hair. And the college formals when my fellow dormies and I spent hours deciding what to wear and how to do our hair. Then there was the time two summers ago when my sister and I spent an afternoon treating ourselves to facials, manicures and pedicures.
Gee, maybe things don't change that much!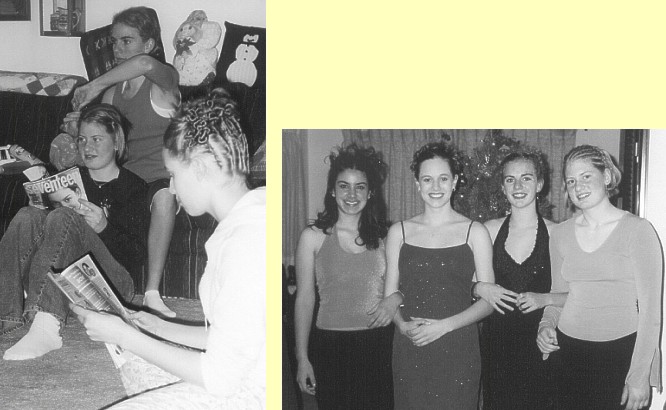 Left, Maggie completed Mariya's hair and then worked on Eleanor's. Right, the results:
beautiful gals Cecilia Curi, Mariya Vaughan, Maggie Henton and Eleanor Burton, January 2003.