Snapshots by Gloria Freeland - Jan. 9, 2003
Snowless in Wisconsin
I was sure we'd have snow to show Cecilia, our Bolivian "daughter," when we spent part of our Christmas holiday in Wisconsin. I was so certain we'd have it that I had taken Cecilia out while Christmas shopping to buy boots. And, as preparation for our journey to the Great White North, I even packed two big trash bags with a large assortment of boots, snow pants, hats, mittens, scarves and insulated gloves and socks.
I had assured Cecilia that even if Appleton, where Art's Mom lives, didn't have snow, there would surely be piles of it in Three Lakes, the little town where we have our summer cottage, located in the North Woods. Art's cousin Claudia and husband Karl live in Three Lakes, and they had invited us to visit them on New Year's Eve.
"Great!" I thought. "I know they've told us they haven't had any snow lately, but they're just used to blizzards. Surely there will be enough to make a snowman or throw a couple of snowballs."
Art, his Mom, his brother Tommy, Mariya, Katie, Cecilia and I squeezed into the van to travel the three hours to see them. Along the way, we kept looking for signs of snow, but only saw a few flakes dusting some of the fields.
I didn't give up hope - until we pulled into their driveway and still didn't see the slightest trace of it - even in the wooded area between their house and Whitefish Lake.
After we had eaten Claudia's delicious soup, ham sandwiches and melt-in-your-mouth Christmas cookies, we pulled on our boots and headed outside. The protected pathway from their house to the lake felt positively spring-like. But as soon as we got to the edge of the lake, the wind took my breath away.
"Now that's cold," I said.
I was immediately mesmerized by the beauty of the icy lake, frozen solid after days and nights of sub-freezing temperatures. Some ice fishermen, bundled up in bright orange coats, had evidently had enough as they were packing up to leave when we arrived. They pulled their boat along behind them.
Art, who used to go ice fishing with his Dad, Grandpa and other various relatives, told me that a lake frozen to a depth of four to five inches is safe for walkers. One frozen eight to 10 inches or more is safe for a vehicle to drive on. Whitefish Lake was frozen to a depth of eight to 12 inches. Some of the ice ledges under the surface were swirled and frosty while others were crackled. The freezing and thawing cycle had given the lake this wintry look.
I gingerly stepped onto the ice while Mariya, Katie and Cecilia sailed past me, squealing with delight.
"Wow, this is great!" Cecilia said. She's been wanting to learn to ice skate.
Katie tried to give me some quick skating lessons. "Just move one foot in front of the other, Mom," she said. She and Mariya both offered to take my hands to pull me along.
Soon we were joined by Art, Karl and his and Claudia's young black Labrador Rosie. Rosie entertained us as she charged out onto the lake and then slid along sideways on her haunches. She yapped excitedly as she raced after the girls and Art. They had decided to check out the holes the ice fishermen had made in the middle of the lake. They found ice chunks chipped out by the fishermen and soon began to play ice hockey. Rosie enjoyed chasing the chunks and occasionally chomped on them.
I took off my gloves so I could videotape the action. I went inside about every 15 minutes to warm up my frozen appendages, but I kept going back to the lake to watch. Art returned to the house to get a screwdriver so the girls could carve their names on the lake. He sent a digital picture of "Cecy" carved on the surface of the lake to her parents in Bolivia.
It may have been snowless in Wisconsin, but it's not every day we people from Kansas and Bolivia can say we walked across a frozen lake.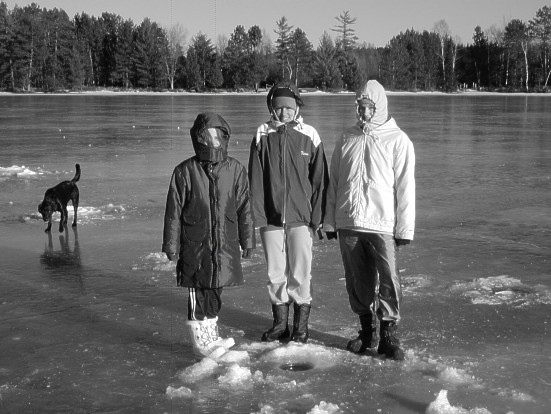 Rosie, Katie, Cecy and Mariya on Whitefish Lake in Wisconsin.