Snapshots by Gloria Freeland - Jan. 2, 2003
My New Year's resolution
I wish the holidays were spread out over a longer period of time. The wonderful sights, sounds, tastes and smells are almost too much to absorb in such a short span.
Halloween starts the cycle of decorating, eating, visiting and gift buying. Thanksgiving almost seems skewered in before the real rush of shopping, wrapping, decorating, card writing and partying sends us into overdrive.
This year, I Christmas shopped with my sister Gaila for the first time in 20 years. She has lived in Bolivia since 1983 and, although she has come home most summers, she has been home only twice at Christmas. We walked arm in arm down Poyntz Avenue in Manhattan, jostled for position at Wal-Mart and had our picture taken with Santa at the mall.
As always, Santa's workshop held center stage at the mall, and brilliant poinsettia trees decorated with white doves and angels stood in front of the anchor stores. I purchased one of the doves in memory of my Dad and to help benefit Homecare and Hospice. It doesn't seem like that long ago that I took a holiday photo of Dad and Mom with our girls in front of one of those poinsettia trees.
Art and I took Gaila and Mom to Kansas City on Dec. 6 so they could catch their flight to Bolivia the next day. We ate at Houlihan's on the Plaza and then toured around a bit to see the lights before driving home, arriving just in time to drop into bed.
The next morning I had breakfast and exchanged gifts with my gal pals, finishing in time for Art and me to drive to Wichita to attend a concert featuring world-renowned tenor Placido Domingo. I had often told Art that I would pay almost any amount of money to see Luciano Pavarotti or Placido Domingo. We had seen Luciano in April and now we were going to see Placido. Two famous tenors in Kansas in less than a year! Placido charmed us with opera numbers and then he sang Christmas carols with us. The beauty of the music moved me to tears.
But that weekend's activities weren't over yet. We rushed home so our girls, our Bolivian "daughter" Cecilia and I could attend the St. Petersburg Ice Ballet at K-State's McCain Auditorium Sunday night. The skaters/dancers glided across the specially-created icy stage in elaborate costumes of velvet, lace, brocade and sequins They performed to Tchaikovsky's "Sleeping Beauty." As I watched, I marveled at their grace and power, certain that I wouldn't be able to stay on my feet wearing skates, let alone dancing.
To round out our holiday activities, we attended Katie's Keats Kids program, Riley County Grade School's delightful production of "The Mall and the Night Visitor" and the high school's talent show. Then we added family celebrations to the mix.
Many people decide the New Year is a great time to make resolutions - to lose weight, to get on an exercise program, to get organized or to accomplish some noble goal. Not me. After the hubbub of the holidays, I just want to sit and do nothing. My resolution is to get more sleep!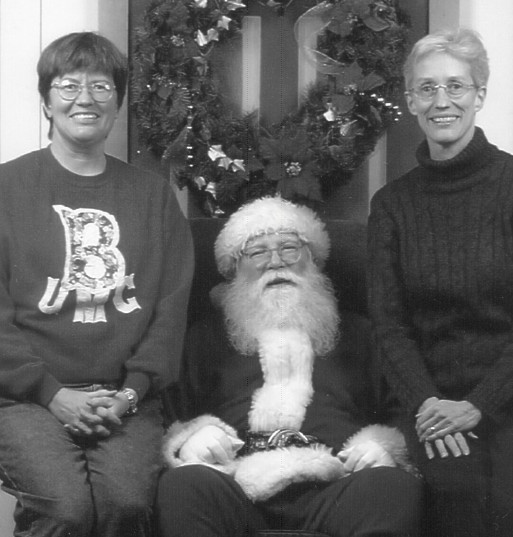 Gaila and Gloria with Jolly Old St. Nicholas at the mall, December 2002.