Snapshots by Gloria Freeland - Dec. 26, 2002
Ghosts of Christmas past
With Dad's death and Mom spending the next few weeks with my sister Gaila, the holidays have been so different this year. Much of the joy surrounding Christmas comes from a mixture of new and exciting activities combined with comforting traditions. For me, many of the latter arise from my childhood.
In my earliest recollections, I remember buying our Christmas tree from Bolen's Grocery in my hometown. In later years, Dad, Gaila and I would walk out to the pasture and through the groves of trees on the periphery of the farm to cut down a cedar tree - one that wasn't too scrawny or too bushy or too tall or too small. The cedars were prickly and pungent - not as pleasing as those trucked in from other places - but I liked them just the same. They were from home and that was all that mattered.
We decorated the tree with bubble lights, shiny cone-shaped ornaments and lots of icicles. We stenciled snowmen and nativity scenes on the living room windows with cans of "snow." We even sprayed some along the inside of the window frames in case we didn't have the real stuff outside.
Probably it didn't snow by Christmas any more then than now, but in my mind we usually had piles and piles of it - good enough for making life-sized snowmen and throwing snowballs from snow forts.
Every time we got a good snow, my brother Dave, Gaila and I begged Dad to tie our sled to the back of the pickup and pull us along the country roads. He always obliged, much to Mom's chagrin. We loved the snowy cold air in our faces as the sled careened from side to side.
Dad and Mom always attended our various Christmas concerts and programs. When I was in first grade, I eagerly anticipated singing "Frosty the Snowman" on stage. When I broke out with the measles a couple of days before the program, the teacher sent me home. I was heartbroken. I stayed at Grandpa and Grandma Freeland's while the rest of the family went to school and work. Grandma let me open one of my gifts early - probably on the approval of my folks. It was a white poodle with a fluffy tail and ears - so life-like I almost thought it should bark! I immediately felt better.
We always opened our gifts on Christmas Eve - usually one at a time so we could appreciate each gift. Usually we got one item of clothing and one toy from Dad and Mom and gifts shipped in from our California aunts and uncles.
I don't know how Dad did it without us figuring it out, but at some point, he would slip out of the room. Soon Mom would jingle the little Christmas bells adorning her apron and say, "Santa's been here! Look at the packages on the front porch!"
Santa would leave us each a toy and more than likely, a game such as Life, Lie Detector or Clue that we kids shared. A couple of Christmas gifts I still have include a talking red-haired Mattie Mattel doll and a cardboard Barbie Dream House that Gaila and I got and that our four girls played with until recent years.
I look at our girls and wonder what they will remember about our Christmases. All I can hope for is that one day they - like my brother, sister and me - will look back and think, "Thanks for the memories, Dad and Mom. Your love lives on."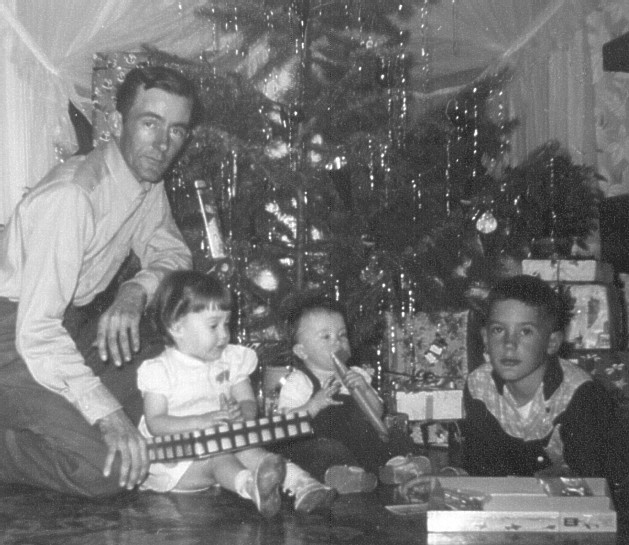 Dad and his brood