Snapshots by Gloria Freeland - Dec. 19, 2002
The year of unwrapped gifts
Walking into the restaurant, I knew immediately why we all had made the effort for our annual holiday get-together. My five friends were already seated and ordering breakfast. Their smiles lit up the room.
"Gloria, hurry up and get over here," they said, making room for me in the booth. "The volleyball team just got here and we want to get our orders in first."
I smiled. I love these "gal pals." They're witty, protective, smart, loving - they'd do anything for their friends.
Although we see each other almost every day on campus, we don't really have time to chit-chat - something that we all need now and then.
We range in age from 38-59 and we've known each other for 14 years or longer - long enough to watch our children from babyhood through their growing up years, to congratulate each other on our successes, to hold each others' hands when loved ones died, to laugh about our little quirks, to be there when life wasn't going so smoothly. We've shared recipes, child-rearing strategies, pet-care ideas, gardening tips, and even solutions to life's big problems such as what hand lotion is best to use on cold winter days.
We've had our annual breakfast for enough years that it's now a tradition. Sometimes it's quite a feat to figure out a day and time during the holidays when we can schedule an hour or two to get together. But somehow we've managed to squeeze it in with the decorating, baking, shopping, wrapping, caroling, program-going, entertaining, Christmas card writing hubbub of the season.
Some years, we've added shopping or touring holiday homes as part of the day's activities. This year, I only had time for breakfast, but even that was enough to renew my spirits.
We laughed, we talked, we told jokes and we exchanged Christmas gifts.
When we discovered that only one of us had bothered to wrap her gifts, we all laughed. We know we're all busy people and we don't need fancy wrappings to show our appreciation. We'll remember this year as "the year of unwrapped gifts."
My friends said I took the prize for the best unwrappings. I wrapped the scented candles I had purchased in Wisconsin in paper towels and put them inside Ziploc bags. Others used plain boxes, envelopes or tissue paper.
We didn't really want to leave the restaurant, but people were lined up waiting for tables. Reactions to us were mixed. I'm sure some were wishing we'd hurry up. Others were looking at us with amusement.
As we went to the counter to pay, the woman behind us asked, "Have you ever considered calling up Oprah Winfrey and having your girlfriends' club on her show?"
Then she paused before adding, "I miss my girlfriends. They're all back home in Texas."
I'm glad mine are close.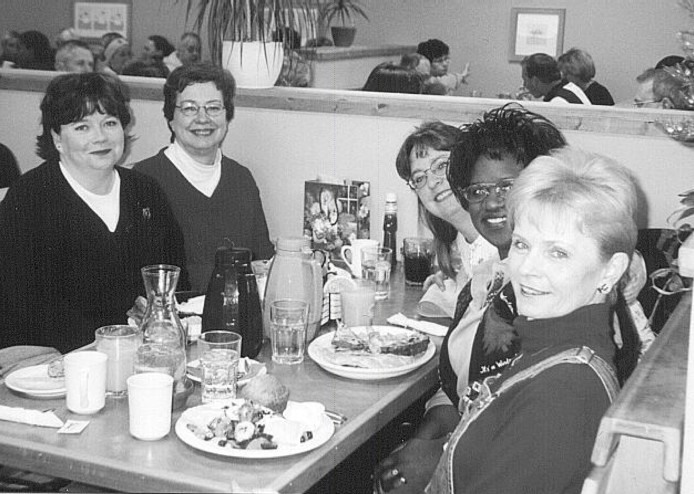 Gal pals Jackie Harmon, Ann Foster, Wanda Haynie, Pat Hudgins and Linda Puntney