Snapshots by Gloria Freeland - Nov. 14, 2002
A Kansas Bienvenida
Early next week, we'll add a new daughter and sister to our family. We've waited for this opportunity since August, and we're anxious to welcome her. Cecilia, a 17-year-old Bolivian, will become part of our family for about three months.
Cecilia will be on a break from school similar to our children's summer vacation. Her parents believe it would be a good opportunity for her to improve her English, which she has studied since she was in grade school, and for her to learn about a new culture.
I've known Cecilia's father Cesín since we were both students at K-State in the mid-1970s. He and three other Bolivian friends were doing doctoral work in chemistry then. In the ensuing years, I've visited Cesín and the others three times in Bolivia. The most recent was in December 1998 when the girls and I traveled to La Paz to spend the holidays with my sister and her family. Cesín and his family - wife Marlene and children, Cecilia, Cesín Jr., Miguel and Claudia - were among the guests at a barbecue hosted by my sister and her husband.
I like the idea that a friendship that began more than 25 years ago is continuing into the next generation. Both Mariya and Katherine are looking forward to sharing our home - especially with someone from their cousins' homeland and a country they visited four years ago.
Of course, Cecilia's parents are concerned about how their daughter will adjust. Questions and answers have been flying back and forth by e-mail since August. Marlene is happy that Cecilia will be staying with us, but she's a bit worried and anxious, too. She's never been separated from her daughter for such a long period. I can relate to that. I'd be worried and anxious, too.
I was surprised when she asked if anyone in our family speaks Spanish. Then I realized that our time together in 1998 was so brief and there were so many others present that she really hadn't had an opportunity to talk with me much then. I assured her I speak it fairly fluently and explained that Mariya is taking Spanish III in high school. Since Cecilia has taken English, we shouldn't have much trouble communicating.
When they asked if Cecilia could attend high school classes while she's here, Mariya said she would be glad to have Cecilia accompany her.
When they wondered what the climate is like in Kansas during November, December and January, Art described the unpredictability of our weather and told them the temperature ranges in centigrade, which is the scale they use in Bolivia. He further explained that Kansas is noted for being a windy state and wind can make it feel colder than the temperature might indicate. He emphasized that a warm jacket and gloves or mittens are important.
Art also sent school documents to Marlene and Cesín by e-mail along with detailed explanations of how to complete them.
The last step will be for Cecilia and her parents to meet with an official at the U.S. Embassy in La Paz this week to get her visa. In preparation for that meeting, we had to send a document stating that she would be living with us while she is in the country.
In the meantime, we've been making plans to make Cecilia's stay with us a happy, busy one. And when she arrives next week, we'll be ready to give her an affectionate "Bienvenida a los Estados Unidos - Welcome to the United States.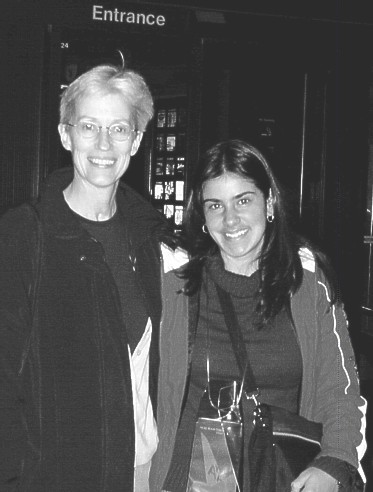 Welcome to the United States, Cecilia.