Snapshots by Gloria Freeland - Oct. 31, 2002
Candy, cats and costumes
Our house has been decorated for Halloween since the first weekend in October. Katie insisted we do it as soon as September turned into a new month. Down came the boxes out of storage and out came skeletons, spiders, scarecrows, black cats and bats, orange pumpkins, costumes and scary books.
The memories of the girls' younger days return each year when I pull out their past creations - black construction-paper cats with curly orange tails, scarecrows with straw or thinly cut yellow construction paper sticking out for hands and feet. One year, Mariya made a construction paper haunted house complete with ghosts peering out of open windows. Another year, Katie made a skeleton with Q-tip "bones" on black construction paper. She made another one just a few days ago so she could put the bones on straighter this time.
A life-size skeleton made of white-ribbed paper plates is taped to the inside of the front door. It actually startles me when I pass by.
Outside, we have a sheet ghost and smaller plastic ghosts hanging from our pin oak tree and plastic pumpkins dangling along the front railing. Two large pumpkins and a smaller one sit on the porch. Art's job each year is to carve the pumpkins after the girls draw designs on them.
I put the finishing touches on Katie's Halloween costume last weekend. She decided to be Hermione Granger, a friend of Harry Potter's in the popular books and movies. To play the British schoolgirl, Katie chose an Oxford blouse, navy skirt, gray sweater, white tights and black shoes with buckles. To complete her ensemble, she selected a tie from Art's closet and a black sweater from my wardrobe. I had to add eight inches of cloth to the hem of my sweater and tack the sleeves to fashion the black robe that "Hermione" will wear. A dowel rod colored with a brown marker will serve as her wand.
Both girls love Halloween - the whole trick-or-treat thing, the costumes, the candy, the decorations - but neither of them has been very demanding as far as costumes go.
For several years, all we had to do for Mariya was buy a black sweatshirt and pants and add accessories. The year she was Batman, I sewed a bat emblem onto a black cape and bought the appropriate mask and hood. The year she was a skeleton, I bought a cloth "rib cage" to tie around her middle and applied white face paint. When she wanted to be a black cat, I bought ears, a tail and a black mask and painted whiskers on her cheeks.
In 1998, Mariya wanted to be an alien and Katie wanted to be Princess Leia from the "Star Wars" movies. Halloween turned out to be a rainy, mucky night, but it didn't deter them. Mariya's costume included a rubber mask, rubber hands and rubber feet. The rubber appendages and mask kept her dry, but I had to lead her everywhere because she kept tripping over her feet and her mask kept twisting around so she couldn't see out the eye holes! By the end of the night, Katie's wig was askew and her white gown was splattered with mud.
I missed what may have been the worst Halloween as far as weather goes. I was at a convention and Art took Mariya trick or treating. It had snowed several inches, but much of it had turned to slush by the evening. Our pumpkins even froze to the front steps. Several times Art suggested they stay home, partly out of consideration for Mariya and partly because he wasn't eager to get out in it himself. But Mariya, being the determined person she is, insisted.
He drove her to one Manhattan neighborhood after another and at each, she sloshed from door to door. Between each house, he asked if she wanted to go home yet, but she pressed on.
But just as determined as she was to go, she was equally firm about when she'd had enough, even though they were in an area where she was picking up lots of goodies.
However, the funniest part came later, when Mariya insisted it was Art who made her go!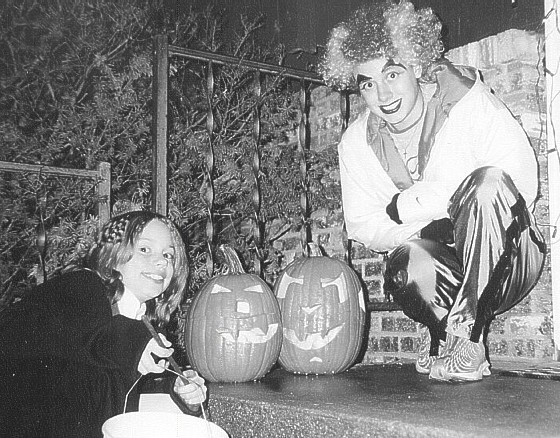 Hermione Granger, left, and a crazy clown