Snapshots by Gloria Freeland - Oct. 24, 2002
Mother-in-law stories
My first husband's mother died of lung cancer five years ago this week, but I still want to talk to her about big things and little things - how much Mariya reminds me of her son, how difficult it is to see my Dad get weaker and thinner, how much I'd like to sit down with her and have one of her cinnamon rolls and a cup of coffee.
I find myself using expressions she used - like "doesn't that just frost your gizzard?" - when friends tell me that someone or something has aggravated them.
Mom J and I talked about almost anything. She was my friend as well as my mother-in-law. I feel the same way about Art's Mom. I never understood the bad jokes about mothers-in-law because I've had the good fortune of having two I really loved and respected.
I first met Rita and Ken Johanning just a few days before their son and I were married. Jerome and I had met in Costa Rica. We always thought it was ironic that our homes were only 50 miles apart in Kansas, but we hadn't met until we were both so far away.
Mom J must have wondered what kind of wacko woman her son was marrying when he told her we wanted a chocolate duck cake for our wedding, chosen to remind us of a duck pond which was our favorite spot in San José. She didn't seem to "bat an eye" over the request. The chocolate duck-shaped cake came complete with swirled white "feather" frosting and an orange "bill."
About six months after we were married, she and Dad J came to visit us in Costa Rica. Her favorite part of the visit was the Holy Week procession through the streets of San José. She and Jerome joined the throngs of people on Good Friday. She was a devout Catholic, and this was among the most moving religious experiences of her life.
Another experience in Costa Rica that wasn't so fun for her at the time, but was an endless source of stories was our trip to Monteverde National Rain Forest. She loved the forest. The problem was the drive there. The narrow road clung to the side of the mountain, and Rita was deathly afraid of heights. She later told me that we got to know each other quite well on that trip for she had a tight grip on my knee most of the time.
We became even closer after Jerome's death. She and I probably knew Jerome better than anyone, and we often shared stories about him - she of his childhood and I of our married life.
I was pregnant with Mariya when Jerome died, and Rita was as worried about my health and well-being as my own Mom was. She wanted to make sure I was eating properly and that I saw the obstetrician when I was supposed to. She and Ken visited often to keep me from getting too lonely. They and my parents were waiting outside the delivery room when Mariya was born. Mom J held Mariya when she was just a few minutes old.
"This is the happiest and saddest day of my life," she said.
I understood exactly what she meant.
Mom J was a loving grandmother, both to Mariya and to Art's and my daughter Katie. She and Dad J often said that Katie made an even dozen grandkids for them. Mom J loved angels and had a collection of them. Each year on their birthdays, she and Dad J sent Mariya and Katie a special collectible birthday angel.
Along with being a doting grandmother, Mom J was an excellent cook. Her homemade chicken and noodles were legendary in the family. Her cinnamon rolls disappeared as soon as they came out of the oven. Her lemon meringue pie was a favorite of my Dad's. She made mincemeat pies for Art, who requested them as Christmas gifts.
I miss you, Mom J. In fact, I'd like to tell you that over a cup of coffee and one of your cinnamon rolls.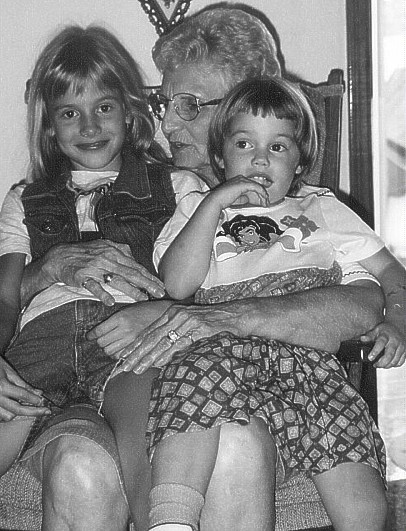 Mom J with granddaughters Mariya and Katie.