Snapshots by Gloria Freeland - Sept. 19, 2002
Fear of flying - who needs it?
I was apprehensive about flying to Oregon last week. The Sept. 11 anniversary was coming up and I knew the country would be under a heightened state of alert. Still, I knew the chance anything would happen to a flight I was on was unlikely. The convention I was attending had been scheduled for more than a year, and I told myself that I couldn't live life as if something terrible might happen.
I flew out on Sept. 10 and returned on Sept. 15. Other than having my bags checked carefully, being wanded twice and being asked to remove my shoes on the first part of my journey, the trip went extremely smoothly - no turbulence of any kind. If anything, people seemed friendlier and more helpful than on many trips I've been on.
The conference I attended went well, and I enjoyed catching up with friends. Although I always learn a lot at conferences, I confess that one of my favorite parts is the free time we have to get to know new parts of the country. I had been to the Northwest about 10 years ago, but most of that trip was spent in Seattle.
The Pittock Mansion, a 1914 National Register property, had impressive views of the Cascade mountains, local rivers and the city of Portland. It was furnished with antiques and fine art. The grounds contained dozens of roses, azaleas and rhododendrons.
The Portland Art Museum featured "Splendors of Imperial Japan: Arts of the Meiji Period from the Khalili Collection," a traveling exhibit making its only West Coast appearance in Portland. The more than 350 pieces, made between 1868-1912, included works in metal, lacquer, ceramic, enamel and porcelain.
The Willamette River was near my hotel. Although it wasn't a designated tourist spot, an evening stroll yielded some interesting sights. My favorite was a young family - father, mother, three children and a dog - frolicking in one of the city's fountains. I thought it was chilly, but they didn't seem to mind getting soaked.
A friend and I spent an entire afternoon and evening meandering from Lincoln City to Depoe Bay and Newport on the coast. Portland had been warm and sunny, but the coast was cool and cloudy - adding to the rugged feel of it. We watched long-necked cormorants, gulls and other sea birds, walked around a lighthouse and watched the ocean waves. Some people with binoculars said they spotted a couple of whales. I could just barely make out their tails.
We stopped to eat clam chowder, cabbage salad and garlic cheese bread at a local diner named Mo's, which is somewhat famous, if only regionally. At local shops I bought some saltwater taffy, wine from an Oregon vineyard, and several pieces of myrtle wood jewelry. The myrtle tree grows only in southwestern Oregon, and it takes a century or more for it to grow to commercial size. The coloring of the wood varies from satiny gray to multi-colored grains of red, yellow and brown.
When we got out of the car in Newport, I was amazed to hear a loud, intense barking. It sounded like a pack of basset hounds, but the sound came from the dozens of sea lions lounging on the piers and on the rocks. One of them stood out from the crowd. Poised on his front flippers, he was quieter than the others and seemed almost nonchalant about the noise around him. He had grayish blonde eyebrows and a "mustache." I called him "Grandpa."
A mansion, a museum, a river, the sea. I'm glad I decided to fly last week.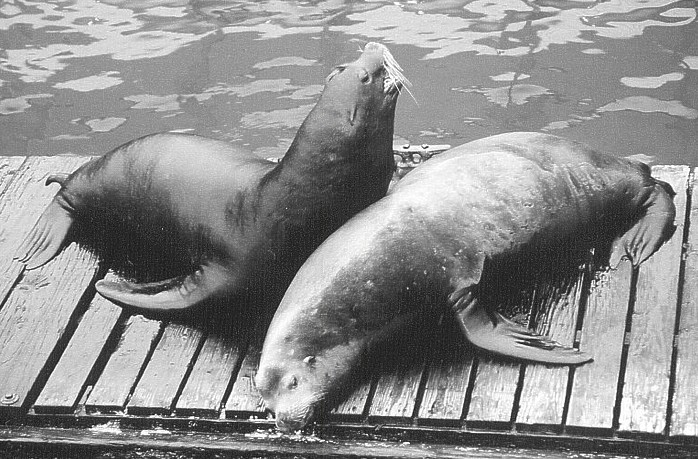 Sea lions alternately barked and slept on the piers of Newport, Oregon.