Snapshots by Gloria Freeland - Aug. 15, 2002
Of bears and berries
We just returned from our family vacation in Wisconsin. I love Wisconsin and consider it to be my second home, but it's definitely a different world from Kansas.
When I told a colleague in Chicago that I was going to vacation in Wisconsin, she jokingly told me that Chicagoans refer to Wisconsin as being "behind the cheese curtain." I had to laugh because I knew exactly what she was referring to. We have cheese in Kansas, but our grocery stores don't have several aisles devoted to cheese and cheese products, and we don't wear plastic cheeses on our heads at football games like avid Green Bay Packer fans do. Mariya even decided to take some Wisconsin cheese home to share with her friends.
We picked up Art's Mom, his fishing gear and all our other paraphernalia in Art's hometown of Appleton, and then began the three-hour trip to the North Woods. Less than an hour from Three Lakes, where our cottage is located, we were surprised to see a black bear peering onto the road from the ditch. When I first saw it, I thought, "Man, that's a BIG dog." Then I realized that its snout wasn't like any dog's I've ever seen.
The bear looked from side to side as if to check the traffic and then loped across the road after we passed. Although that's the first bear I've seen in the wild, a bear sighting in Wisconsin is many times more likely than one in Kansas would be.
This year was our 10th time to stay at our cottage by Maple Lake and Art's 50th year of trout fishing. We've been to the cottage so many times that it's very comfortable now. That's not to say we were bored. But rather than traveling here and there to see every new sight as we have in past years, we stayed within a 40-mile radius of our place, which lies at the edge of the Nicolet National Forest.
The area boasts the largest chain of lakes in the world, and a ride through the connecting channel yields close-up views of wild rice, loons, eagles, herons and Canada geese.
The average temperatures were in the pleasant 70s during the day and dropped into the 40s and 50s at night. Several days brought crisp showers. Quite a contrast to the parched days of 90s and above at home in Kansas.
The girls, Art, his mom and I were content to swim, read, play Solitaire, do crossword puzzles, and go antiquing. We all ate the trout that Art caught and his Mom pan fried. We made several trips into the nearby woods to gather wild raspberries and blackberries. Art's cousin, who lives down the road from our cottage, and I made eight jars of jam from a small portion of the raspberries we picked.
Another part of the raspberries and the blackberries will probably go into pies that I'll make for Art's birthday this weekend. The pies will certainly disappear quickly. The memories of the bear and berries will last a much longer time.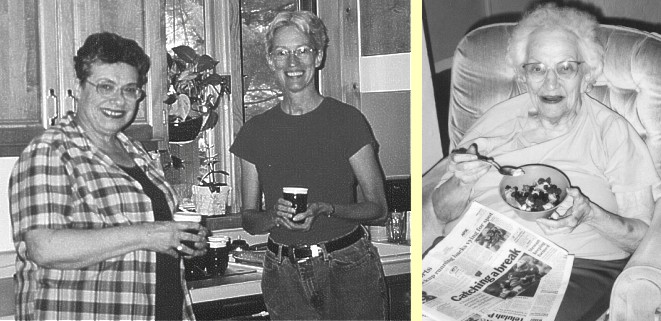 Claudia Wittmann and I proudly display our raspberry jam, left, while Mom V
enjoys her ice cream - especially with fresh raspberries and blackberries, right.