Snapshots by Gloria Freeland - July 25, 2002
The family that can't say "goodbye"
A relative by marriage joked with us at one family reunion that the Freelands are people who can't say goodbye. I laughed and had to agree with him. My first recognition of this family "affliction" was watching my Grandpa Robert as he told people goodbye. I can still remember him leaning on someone's open car door to get just a few more words in even after they had said their goodbyes in the house.
Whenever relatives or friends left our family's home after an evening of visiting, we'd walk them outside, chat awhile longer, walk them to their cars, and then stand and wave at their disappearing vehicles for as long as we could see them. If we were the ones leaving, we'd wave and honk our horns until we were out of sight.
I've had a series of goodbyes the past couple of weeks that have been hard to take. I said "goodbye and good luck" to a woman I've worked with for more than five years as she moves on to another position.
I silently said "goodbye" to our family farm after my brother, sister and I took care of some business with the current renters and slowly drove out of the lane. The three of us hadn't been together on the farm since the summer of 2000 before my parents moved to Manhattan.
When my brother left Manhattan to return to his home in Salina last week, we took about a dozen photos of us three kids with Mom and Dad because "you never know" whether it will be the last time we're all together.
I bid my sister and my two nieces "adios" this week as they headed back to Bolivia. That "goodbye" stabs me in the heart for I know that our girls will change dramatically over the next year until we see each other again next summer. The end of each summer brings the end of their childhoods closer.
The goodbyes are worse yet for my sister. Gaila always wonders who might not be around the next time she comes home. This year is especially difficult because our Dad is not doing well. He'll be 83 in August, and time has taken its toll.
Dad has a long list of physical problems - diabetes, prostate cancer, back problems and most recently, myelodysplasia, a condition caused by the failure of his bone marrow to produce red blood cells.
On top of those ailments, his memory is fading. Although he can sometimes pull up some obscure piece of information from his growing-up years - like the fact that his family drove a dark-green 1928 Buick during the Depression years - it's difficult for him to remember what he did yesterday or what he had for lunch today. Seeing those changes in him are another kind of goodbye - maybe the saddest kind - for it has always been our Dad we turned to when we wanted to know what year we took our big trip to Lima, Ohio to pick up the school bus he had purchased or what crops he raised during World War II for the effort on the home front.
My head tells me that as I get older, the goodbyes will come with more frequency, but my heart resists. I think that is why I take so many snapshots throughout the year. Later, when I look at them, those times live again - even if for only a moment. It's my way of not saying "goodbye."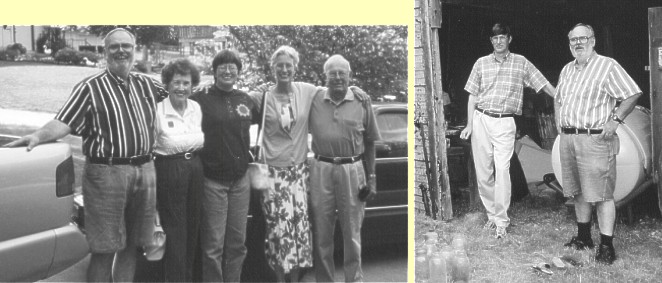 Art, Kay, Gaila, me and Stan in one "last-goodbye" photo and Dave and Art on the farm.