Snapshots by Gloria Freeland - May 23, 2002
Mornings and Memorial Day
Almost every morning this school year and every previous school year, for that matter, we follow a certain routine. Art gets up first and turns on the TV to watch the news. Then he wakes the girls up - first by opening their bedroom doors and then, after a few minutes, hollering at them from his spot on the living room couch to see if they're awake yet. I drag myself out of bed and follow my routine - get the girls their breakfast, put their snacks in snack containers, gather up the pencils, shoes, crumpled newspaper sections and other miscellaneous items that were left in the living room the night before, put out food and water for the cat, and feed the fish.
After the girls dress, eat, brush their teeth and hair, and gather up their things, they sling their backpacks over their shoulders and Art takes them to meet the bus. At 7:29, I watch for that big yellow bus to go by our house on the way to school. I can practically set the clocks by the bus's schedule."'Bye, girls," I say to myself. "Have a nice day!"
In the quiet house, I make myself a cup of coffee and read the paper if I didn't have time the night before - and if I can find sections that aren't too crumpled. I make our bed after that. I don't know what the rest of the day will bring, but at least I'm in control of what the bed looks like.
Routine comes from the Middle French word "route" - traveled way. A couple of definitions for routine are "regular course of procedure" and "habitual or mechanical performance of an established procedure." Some people say that too much routine means you're in a rut.
I suppose that's true. If you never go a different route to work or try to do something a different way, you can get stuck and everyday things become boring.
Yet the routine during the school year is also comforting. It assures me that life is proceeding as it should day after day, week after week.
That particular routine ends this week. The ending of another school year for my daughters, the ending of a semester at K-State, the ending of a year, a month, a day - make me somewhat sad. It's just sort of an unexplainable feeling that things won't ever quite be the same. And, of course, they're not supposed to be. The seasons come and go, children grow up, and we all get older. It's the natural order of things.
I just don't want the process to go too quickly. I want to savor the minutes of my kids' lives. I want to enjoy each season before the next comes in full force. This year, for example, spring has seemed about perfect. The cycle of cool, sunny days followed by two or three days of rain has given us a glorious green landscape dotted with bursts of color.
Even the irises seem to be hanging on, and the peonies will be about perfect for the Memorial Weekend coming up. When we lived on the farm, my mom used to cut our peonies when they were tight buds, wrap them in wet paper towels and put them in the refrigerator to make sure we would have enough to decorate our relatives' graves. I feel myself wanting to do the same thing - even though I know I won't be visiting any cemeteries this weekend.
Routines - whether they are the ones that give us a map for our daily lives or the ones that help us celebrate holidays - are important guides along our way.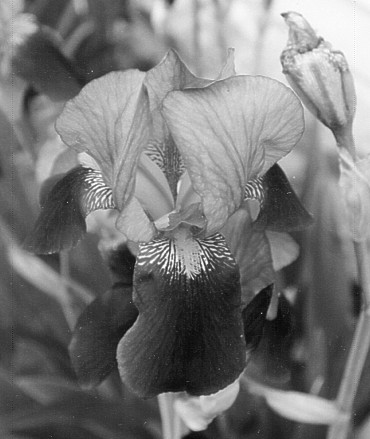 Even the irises seem to be hanging on.