Snapshots by Gloria Freeland - April 18, 2002
Stitched together with love
After collecting quilts, quilt patterns and even books about quilts over the years, I finally decided to take a class at a local craft store. In three short sessions, we learned to piece, appliqué and, just this week, quilt. We only did one block - a honey bee - but at least I now know the basic techniques and hope I can apply them to a larger project.
I have been fascinated with quilts and quilting ever since my sister and I "hid" under our grandmother's quilt frame some 40 years ago while she and her friends worked and chatted. She belonged to what they called the EWT - Eat, Work, Talk - group. Those quilting "bees" provided women of my grandmother's and previous generations with a sense of belonging and accomplishment. Grandma Ethel Freeland made each of us six grandchildren a twin-size quilt.
I have collected a few other quilts over the years. I purchased one called Grandmother's Garden and two with appliquéd butterflies at a local antique store. I also bought some from a friend, who had purchased several made by ladies in my hometown. My favorites were twin quilts made of blocks of cross-stitched roses. The cross-stitching alone would have taken hours, not to mention the piecing and quilting after that process.
Then there are the two crazy quilt pieces I found in a trunk on my family's farm. One has 1896 embroidered on it, along with three interlocking rings - symbolizing friendship, love and truth, tenets of the Independent Order of Odd Fellows. It also has an anchor and a star-shaped flower embroidered on it. I have no idea what they might symbolize.
The two crazy quilt pieces were made from scraps of men's shirts and ties embroidered together with feather, stem, blanket, cross and other stitches. I had the pieces matted and framed and they now hang in our home.
I wish I knew who made them. They could have been made by Grandma Freeland when she was a girl or her grandmother, my great, great-grandmother Fannie Storer. I do know that Fannie's daughter, Laveria, who died in 1890 at age 29, was given a special memorial service by the Rebekahs, the sister organization of the Odd Fellows.
Also in the trunk, I discovered four appliquéd tulip blocks sewn together. I had the pieces cut apart and made into pillows for my two daughters and my sister's two daughters so that each of them can appreciate the heritage of the women who came before them.
To me, quilting is tied up with my family history. The pieces tell a story of what my relatives wore and what was important to them. And, the tiny, regular hand-done stitches tell me that they took pride in their work and were doing it for more than just to provide bed coverings - they were doing it for love.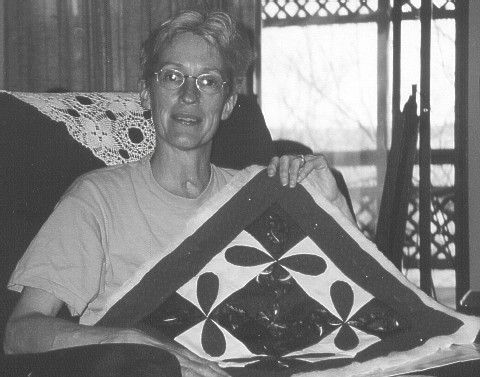 My honey bee quilt block.