Snapshots by Gloria Freeland - March 28, 2002
Swedish sisters
Mom's sister spent last week with my parents to help Mom celebrate her 78th birthday. Aunt Edith, who will be 82 in May, has been a widow since late 1999 and likes to visit my parents every few months. Before my Uncle Ellis "Bud" died, the four E's - Ellis, Edith and my parents, Edgar and Edla - traveled back and forth to each other's farm homes many times throughout the years.
I love to listen to Mom and Edith talk about their growing-up years in the Kansas Swedish community of Marion Hill near Dwight and White City. Both taught in one-room Kansas schoolhouses and, between the two of them, chalked up more than 60 years as teachers.
In one country school, Edith remembered that along with teaching, doing the janitor work and being the music teacher, she also had to coach boys' basketball. She said she wasn't sure how much basketball the boys learned since she really didn't know much about the game! Mom recalled that she earned $1,200 her first year of teaching. That year, she taught 24 first and second graders in the building that had been the first consolidated grade and high school in Kansas.
Each time Edith comes to visit, I give Mom and her "assignments" to complete. One time we went through old family photographs and they helped me identify some of the people.
Another time I asked them to write down the Swedish prayers they said as young girls. After they wrote the words, I decided it would be good to videotape them saying their prayers. I got the camera, but every time I started taping, they burst into laughter. They hid their faces behind the pages and broke up every time they began speaking Swedish. They asked me to erase that part of the tape, but I didn't. I told them I wanted to share their girlish giggles with their grandchildren and great-grandchildren.
During Edith's last visit, I asked them to write down recipes - theirs and Grandma's. They both remembered Grandma's corn pudding recipe and Edith included recipes of her own, such as broccoli-cauliflower salad and pie crust.
Mom and Edith even took the time to write down their memories of childhood. I told them I'd give them "extra credit" for that.
The "extra credit" reminiscences were great, but I got yet another bonus. My Grandpa Nels Jacob Fritiof Mostrom came to the United States on the Adriatic in December 1909. In 1963, a woman did a Kansas heritage project about the Swedish members of the Marion Hill community. She recorded Grandpa talking about Swedish customs, old-time remedies and work in the northern part of Sweden, where he lived until he was almost 25. Edith had brought the tape along. When I listened to it, I could picture Grandpa sitting quietly in his chair, every now and then running his long slender fingers through his thinning reddish hair.
I don't know what assignment I'll give Mom and Edith next, but they got an "A" on this one.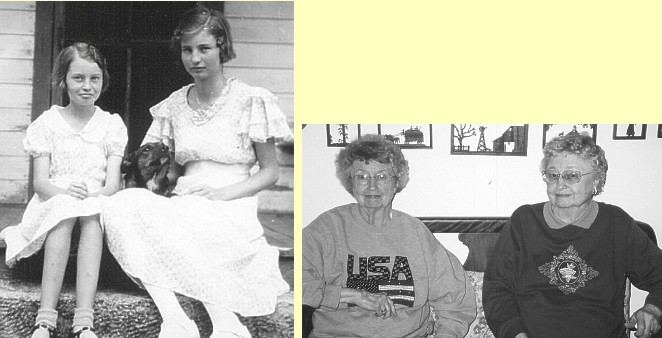 Edla, left, and Edith as young girls on the farm, left, and in
Edla's home in Manhattan in the spring of 2002, right.