Snapshots by Gloria Freeland - March 7, 2002
Shades of "Laugh-In"
My college roommate was in town recently visiting her two daughters, who are now students at K-State. One is a sophomore and the other will graduate in May. It certainly doesn't seem like 27 years ago that Deb and I were doing the graduating.
Although we took different paths in life and we get together only once or twice a year, when we do manage to connect, we pick up where we left off as if it were only yesterday. Of course, e-mails several times a week help us stay in touch with each other's lives.
Deb's e-mail just before her visit included three questions: 1. Did I keep the dress I wore when I was her maid of honor in 1975? 2. If so, why on earth had I kept it? and 3. Could she get a piece of it?
My answers were: 1. Yes. 2. I have no idea other than that I have difficulty throwing away anything that has sentimental value and 3. Yes.
The longer version of my answer to question 2 was that I kept ALL my prom and bridesmaid dresses. They hung in my bedroom closet at my parents' farm home until Mom and Dad moved to Manhattan, and then my sister put them into a large trash bag, probably hoping I'd take the hint.
I kept the dresses because I thought I could make something useful out of them. Deb had seen some ideas on how to convert pieces of bridesmaid dresses into quilts or pillows and I had also gathered similar ideas from magazines so when we got together, we compared pictures and patterns.
I decided before seeing Deb that I'd toss in an old high school prom dress along with the bridesmaid dress from her wedding. I thought it might provide a few laughs.
Why I ever wore that prom dress is a mystery to me. It looks like something one of the characters from the old "Laugh-In" series would have worn with its puffy sleeves and psychedelic green, orange, pink and yellow flowery designs. I made the dress and entered it in the 4-H fair more than 30 years ago. It still has the 4-H tag in it!
When Deb saw it, she joked that I should show the dress to my daughters and offer it to them to wear when they get older. Later in the day when I did, Katie raised one eyebrow and said, "Mom, that looks like something from the '70s!" Mariya just laughed. I convinced them to try a couple of my other dresses on just for fun, and I squeezed into the psychedelic one. Art took our picture for posterity.
Deb took the bridesmaid dress home with her and promised to save a piece for me. I couldn't bear to cut into it myself. I feel the same way about the other dresses. I know, though, that I'd probably have nightmares if I tried to sleep under a quilt made with material from some of them - especially the prom dress. Maybe I'll just donate them to a theater group. The group might be able to use them for one of its comedies.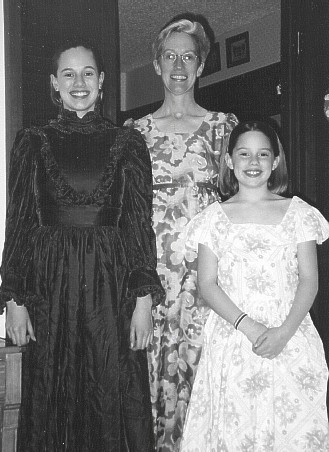 Mariya, Gloria and Katie with Gloria's 1970s dresses.