Snapshots by Gloria Freeland - Feb. 7, 2002
Remembering Jerome on Feb. 3
While most people were absorbed in the Super Bowl on Sunday, my thoughts were on my first husband Jerome, who died on the same day 16 years ago.
I spent the weekend with his father Ken and his oldest brother Dave and family in Wellington. Jerome's mother Rita died four years ago so Ken lives alone. Dave and his family live nearby.
Any time I am with the Johannings, the conversation inevitably turns to Jerome and Rita. We remember the good times, pore over photographs, and usually end up laughing about their quirks - and our own.
Ken is at a point in his life where he wants to give away things that he feels certain people might want. Before I left on Sunday, he asked me to take a pair of candlesticks that Jerome and I had given him and Rita for Christmas one year. Jerome and I found the candlesticks in a shop in Kechi, a small town north of Wichita. We thought they were interesting because they were made of olive wood from the Holy Land.
Ken also wanted me to take the funny painted clay turkey bank that Jerome and I bought on a trip to Mexico. We were enjoying the sights in a small town south of Mexico City when a young boy came up and tugged on Jerome's sleeve. He wanted money, but Jerome just grinned at him and said he wouldn't give him money for nothing. The boy ran off and returned with the turkey, which we paid him a few pesos for. We weren't sure where he got it, but we wondered if maybe his mother missed it later on.
I've told some of these stories to my oldest daughter, and I should share more of them with her so that she knows what her biological father was like. She never had the chance to know him because he died five months before she was born. A blood vessel burst in his brain Dec. 26, 1985 and he died five weeks later on Feb. 3, 1986. She was born July 10 of that year.
After Jerome died, I wanted to die, too, but the fact that I was carrying a baby made me realize that I had to take care of myself and also made me realize that a part of him would live on in our child.
Although my grief has dissipated and my memories have faded, I still think about Jerome - on Feb. 3; on his birthday Dec. 17; on our anniversary Sept. 8; when I hear his favorite Christmas song, "Little Altar Boy;" when I talk with his father and three brothers and their families; when I see his brother Kenny, who could pass as his twin; and when I look at our daughter, who has his same impish grin.
Each person who experiences grief must find his or her own path for dealing with it. My method always has been to talk about Jerome - even though it has made some people uncomfortable. I learned who was willing to let me remember the good times with him - my family, his family and a few friends.
Although it wasn't an experience I would have chosen for myself, I am aware that if it hadn't happened, I wouldn't have the love of my second husband - or the beautiful gift of my second daughter.
Life throws curves at us that we sometimes think we can't handle. But somehow, time and love help heal the hurts. Good times help heal, too. Last weekend, Dave's daughter gave birth to a girl. She named her Sarah Faye. Faye was Rita's middle name.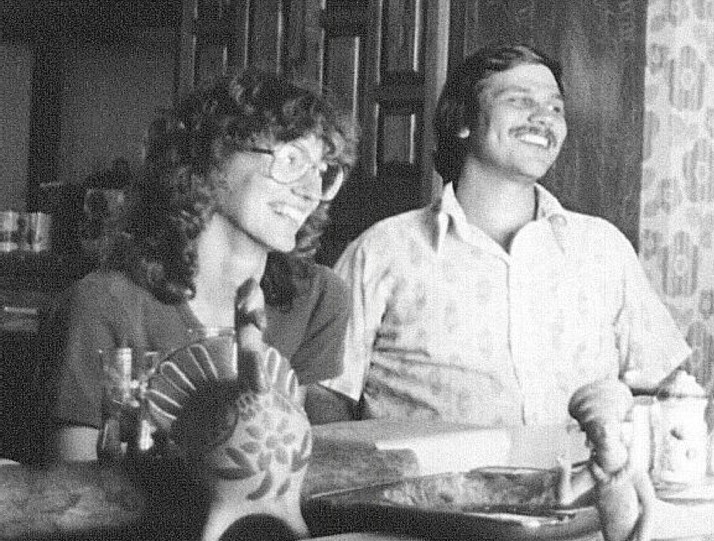 Jerome and I presented his parents with the clay turkey, left, after our 1981 trip to Mexico.