Snapshots by Gloria Freeland - Dec. 27, 2001
Undecking the halls
The range of how people deck and "undeck" their halls is as varied as their personalities. Some decorate the day after Thanksgiving and take everything down the day after Christmas. Others, such as my family used to do, decorate the first or second week of December and wait until just after the New Year to dismantle everything. Some people don't even bother to take decorations down, leaving lights strung on their homes throughout the year.
In my husband's family, the tree was trimmed by Santa on Christmas Eve as he made his gift deliveries. Santa wasn't the only one who waited until the last minute to decorate. Art likes to tell about the times that he, his parents and his grandparents, who sold Christmas trees on the vacant lot next to their home, would turn the lights off in the house on Christmas Eve and watch as people would sneak up and steal trees that were still left in the lot. He said they found it amusing because any trees that were left the next day had to be hauled to the dump anyway, and they would have been happy if all the remaining trees had been stolen!
As much as my husband likes to wait until right before Christmas to put our tree up, he's even more stubborn when it comes to taking it down. We got our tree on Dec. 19 this year and we'll probably keep it up at least through January and maybe into February. It's not my choice, but I've learned to accept it as just another one of his lovable quirks. Some years, the girls and I have even put red and white doily hearts on it to have a Valentine tree. In February I push the tree out of the house and onto the back deck. It usually sits there a week or so until I have energy to launch it down the deck steps, drag its carcass across the back yard, and roll it over the hill to join our Christmas tree skeletons from past years.
I put away our other Christmas decorations in the first couple of weeks of January. The nativities are placed in their boxes, the silk poinsettias and holly are wrapped in plastic, and the Christmas books are put away. The girls' artwork from the season also is lovingly stored for safekeeping until next year.
The one exception I make - in addition to our tree - is my collection of snowmen, which I keep out until February or March, depending on how much snow we have.
There's something about my snowmen that must speak to me from a place in my childhood. While I was growing up on the farm, we made snowmen, snow angels and snow forts. One incident I distinctly remember was when I was in first grade. We were going to sing "Frosty the Snowman" for our school program and I was so excited and proud that I was going to be a part of it. Then, just a few days before Christmas, I got the measles and had to stay at my grandparents' home to recuperate. I was so disappointed that I couldn't sing that song in the program. Perhaps my snowmen (and snowwomen) somehow make up for that childhood disappointment. Or, it could be that I like them because they make me smile! Whatever the reason, I'll leave them out for awhile longer. Now - let it snow!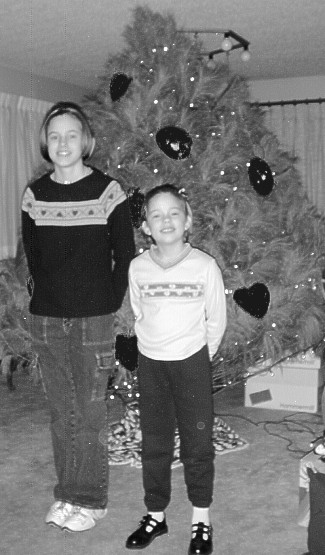 Our Valentine tree